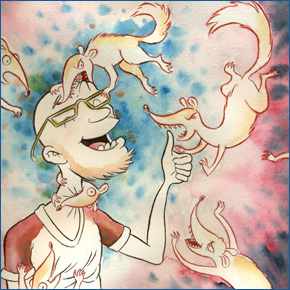 J.T. Yost
J.T. Yost is so very enigmatic. SO enigmatic that he will not reveal his full name. However, if you are up for the challenge, here are a few clues to help you unearth the man (or woman) behind the initials:
J.T. wears many hats (literally and figuratively), but approximately 90 percent of them are artistic in nature. After winning a Xeric award in 2008 to self-publish his comic "Old Man Winter & Other Sordid Tales", J.T. used the profits to continue publishing under the moniker "Birdcage Bottom Books". Along with his own comics, Birdcage Bottom Books has published Ben Snakepit's "Snakepit 2009" collection of diary comics and distributes comics by Victor Kerlow, Noah Van Sciver and the Supertalk anthologies.
J.T.'s editorial, children's book and corporate identity illustrations bear an uncanny similarity to his comic work. It's almost as if the same person drew them both! He has done illustrations for
New York Press
,
The Austin Chronicle
,
Herbivore Magazine
,
Clamor Magazine
, Llewellyn Worldwide Publishing and everything in between. He has created logos for Sticky Fingers Bakery, Saint Goblin's Communications, Bluehouse Furniture & Cafe, Pitas In Paradise Restaurant and blah, blah, blah.
Critters hold a special place in J.T.'s heart, and he repays them by anthropomorphizing them in grotesque and/or hilarious 'peculiar' pet portraits. When weasel packs rend his flesh from bone (pictured) he attempts to appease them by also offering traditional oil portraits and hand-carved block prints.
There's more, but J.T. feels megalomaniacal at this point.
www.BirdcageBottomBooks.com
www.jtyost.com
www.primarilypetportraits.com