Top Shelf 2.0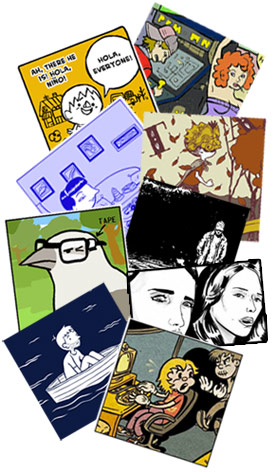 Not quite an anthology! Not your traditional webcomics portal! Welcome to Top Shelf 2.0, the new incarnation of Top Shelf's online comics program. We're glad you're here!
We've loaded up the slate with a bunch of stories to whet your appetite! On the right you'll find kid-friendly adventures, high-kicking action, existential dread, bittersweet banter, and more! Some are standalone stories. Some represent Part One of many chapters to come. All are mighty fine, tasty comics.
And that's just the tip of the iceberg! From here on out, every weekday (M-F) we'll post a new story. It might be a new chapter in your favorite serial, it might be a new short from a previous star, or it might be a totally new artist ready to show off their digital mojo.
Thursday will be Archive Spotlight Day -- each week, we'll pick a great story from Top Shelf's library of previous webcomics, polish it off, and give it a new chance to shine in front of you guys.
So, check back every weekday for updates! And be sure to click on each artist's name to find out more about them. Meet some new favorites! You may not dig every single story, but that's the beauty of Top Shelf 2.0: there's always something new coming!
Finally, tell us what you think! Shoot us some email with your feedback, comments and suggestions. We'll continue to upgrade the site over time, adding new features, so please let us know what you'd like to see!
Thanks for visiting, and enjoy the show!
Brett Warnock and Leigh Walton
Co-Editors