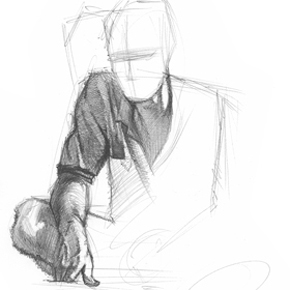 Douglas Draper
From as far back as Douglas can remember, he was always drawing or painting; creating in one form or another. In fact, as a child, this was done to such a large extent that it even became a challenge for his parents to ground "Dougie" for his messy room; because, while his toys may have been taken away, he'd simply construct his own out of school notebook paper, Scotch tape, crayons, and/or the occasional dried-up piece of Play-Doh that had rolled under his desk. A formidable adversary Douglas was…and still is today…minus the Play-Doh (though that's not entirely true).
His previous sequential and illustrative work has been published by 803 Studios, Desperado Publishing, Tin Star Studios, IDW Publishing, Moonstone Books, Alterna Comics, Split Lip Comics, Horror Drive-In,
Morpheus Tales
magazine, and
Space & Time
magazine as well as many others. Douglas' artwork and ramblings can also be found at
www.douglasdraper.com
.
Today, his room is slightly less messy.