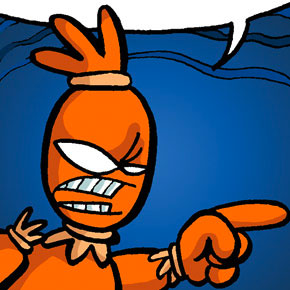 Marek Lachowicz
Marek Lachowicz lives In Gdynia, Poland. He spends his free time playing on his PSP and sometimes drawing comics.
While being a loving husband and father he's also a creator of one of the most recognizable Polish cartoon superheroes – Czlowiek Paroovka (The Weenie Man) and the whole universe packed with such characters as Czopek Piotrek (Suppository Peter), Grand Banda, Gang Wasaczy (the Mustache Gang) and Czlowiek Grzyb (Mushroom Man). You can check out his work by visiting Czlowiek Paroovka's official site www.czlowiekparoovka.pl where you can even draw him a mustache.
Marek's specialty are short stories and comic strips. Apart from constantly expanding the Paroovka universe he also gets involved occasionally in creating some more serious works. One of them is a story with a scenario written by Daniel Gizicki. The story won a prize at the International Comic Festival in Lodz in 2006.
Marek's publications so far include the following comic books:
2005: 'Czlowiek Paroovka vs. Grand Banda' (The Weenie Man vs. Grand Banda') with Tomasz 'TJFK' Kuczma as colorist
2007: 'Czlowiek Paroovka: Dorysuj Mu Wasy' (The Weenie Man: Draw Him a Mustache') with Tomasz 'TJFK' Kuczma as colorist
2010: 'Gang Wasaczy: Ruchome Paski' ('The Mustache Gang: Quickstripes')