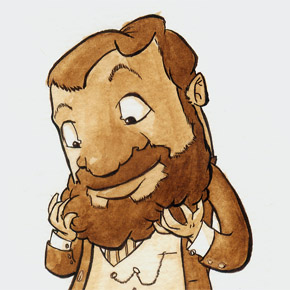 Kevin Woody
Kevin Woody loves comics. He also loves beards. Coincidentally, his first self-published comic happened to be about beards. You can read Woody's beard comic at his website,
Between Mars
, where you will also find additional comics and drawings on non-beard-related topics – peanut butter & jelly sandwiches, Greek mythology, FDR, astronauts, marbles, and more.
Woody currently lives in Long Beach, CA, but betrays the local university and instead attends Cal State Fullerton, where he is getting his MA in Illustration. He received his BA in Film Studies at UC Santa Barbara, where he was a staff artist for the Daily Nexus.
In his free time Woody enjoys en plein air painting, video games, growing out his beard, and, of course, making sweet, sweet comics.