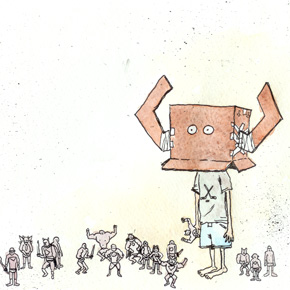 Phil McAndrew
Phil McAndrew has created illustrations for books, magazines, television spots, theatre scenery, clothing, posters, album covers, gallery exhibits, websites, and fun. He also draws comics from time to time. He has self-published a number of mini comics, including
Are You Man Enough?
,
Pearly Whites
, and
The Secret Thoughts of Harold Lawrence Windcrampe
. He's been a regular contributor to the
You Ain't No Dancer
anthologies from New Reliable Press. He's currently attempting to write and draw his first graphic novel. Phil has some friends and he prefers cats over dogs. He doesn't like mushrooms.
Take a peek at his comics and illustrations on his website: http://www.philintheblanks.com.