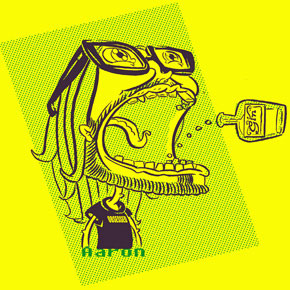 Aaron Conley
Aaron Conley was born in Baton Rouge, LA in 1977. He was then hauled off to the murky humid depths of Lakeland, FL to terrorize the halls of his elementary school with snarls and growls of the werewolf that lived in his mind. Dropping out of little league to spend his days fully engrossed in a healthy dose of 25 cent
Werewolf by Night
and
Marvel Tales featuring Spider-man
comics. When he realized there probably wasn't going to be a chance of him actually turning into a wolfman the next best thing would probably be drawing werewolves all day, and thus of course led to drawing lots of other oddities.
As teenage adolescence faded to adulthood, Aaron became enthusiastic about music. Along with art and rock 'n roll, there were women, there was booze. The wolf became silent.
2007 marked a submergence. No longer allowing distractions, Aaron has spent the remaining time awakening the beast from within. He has fallen deep into his first and only love, comics and art, with hopes of taking a bite out of the comics world!
He is now working hard with his collaborator Damon Gentry on their online comic strip The Sarcomere Carruthers Show, the off shoot twisted children's story Pig Baby and lots of t-shirt and cd cover designs.
Visit Aaron and Damon on the web at http://www.invademyprivacy.com.
Contact: sensitiveandimportant@hotmail.com