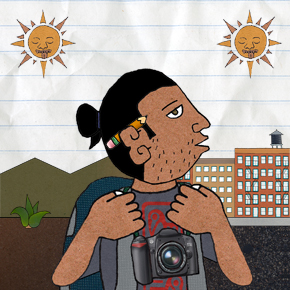 Duncan Tonatiuh
I am very interested in Mexican topics and art. I was born in Mexico City and grew up in San Miguel de Allende, Mexico. When I turned 16 I left San Miguel to attend Buxton, a small progressive boarding school in Massachusetts, where I got very interested in art.
I received my BFA from Parsons School of Design and my BA from Eugene Lang College, both of them divisions of the New School University in New York City. There I studied illustration, photography and writing.
Living in a different country has helped me appreciate the traditions and culture of Mexico. My illustration work draws strongly from the stylized and geometric forms found in Ancient Mexican art; but I try to give those forms a contemporary twist. I recently finished illustrating a children's book I wrote called Dear Primo: A Letter to My Cousin. It is going to be published by Harry N. Abrams in the spring of 2010.
To learn more about me and my work, please check out my website (www.duncantonatiuh.com) and blog (duncantonatiuh.wordpress.com).