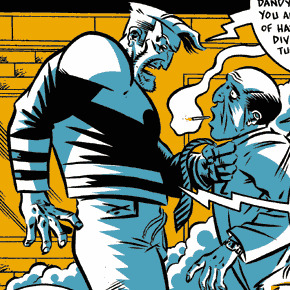 Dean Haspiel
Dean Haspiel is the creator of the Eisner Award nominated, BILLY DOGMA, and the webcomix collective, ACT-I-VATE, and the creator/editor of Smith Magazine's NEXT-DOOR NEIGHBOR anthology. He has drawn superheroes for Marvel and DC Comics and Pulitzer Prize winning, Michael Chabon's THE ESCAPIST. Best known for his collaborations with Harvey Pekar on AMERICAN SPLENDOR and THE QUITTER, the Fall of 2008 saw the release of THE ALCOHOLIC [Vertigo], his original graphic novel collaboration with author Jonathan Ames, and MO & JO, a children's comic book collaboration with underground legend, Jay Lynch, for Francoise Mouly's TOON BOOKS series from Raw Jr. In the summer of 2008, Dean launched STREET CODE, a new, semi-autobio webcomic series for Zuda. Dean also wrote/drew SNOW DOPE for The NY Times "Proof" blog and "Bzzt" for SMITH Magazine's NEXT-DOOR NEIGHBOR.
Dean is currently illustrating, CUBA - ONE STORY, his next Vertigo collaboration with painter/writer, Inverna Lockpez, while providing original cartoons and illustrations for Jonathan Ames' upcoming essay collection, THE DOUBLE LIFE IS TWICE AS GOOD, and Ames' upcoming HBO series, BORED TO DEATH.
Dean is also a founding member of DEEP6 Studios in Gowanus, Brooklyn.
Check him out at http://deanhaspiel.com or http://man-size.livejournal.com!
In the Top Shelf Catalog
Reviews & Interviews