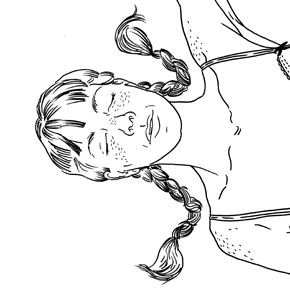 Shannon Gerard
Shannon Gerard hails from Ontario, Canada where she writes and draws the auto-bio comic series
HUNG
. She also makes artist's books about hope, faith and human frailty and spends at least 50% of her waking life crocheting plush sculptures. Recently though, she has been untangling herself long enough to start hand-printing books on a letterpress. Shannon teaches courses in print media and nano-publishing at the Ontario College of Art and Design in Toronto.
Unspent Love, or Things I Wish I Told You is a collection of fragments that are too short to be books and too long to be illustrations. This strip is like an awkward teenager-- only prettier.
Visit Shannon online at www.shannongerard.org. Bring coffee.