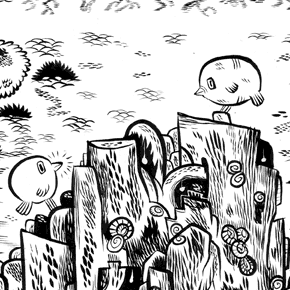 Ben Constantine
Though having been engulfed by the world of painting and exhibiting work for the past year or so, Ben Constantine is still more obsessed with writing and inking pages for his series of visual novella-ettes, "Plump Oyster." A strip of the same name appears weekly in several street press magazines in Brisbane and Sydney, Australia. It's able to confuse, irritate, spy on, astound, wink at and warm the hearts of its diverse readership.
Since 2007, Ben has been transferring the 'world of the oyster' to canvas, skate decks, walls, and vinyl toys for various group and solo exhibitions in Australia, Scotland, Germany, South Florida and Canada.
A back-catalogue of his art can be found at benjamincee.deviantart.com.
For extra info: www.plumpoyster.com
email: benjaminsea@gmail.com