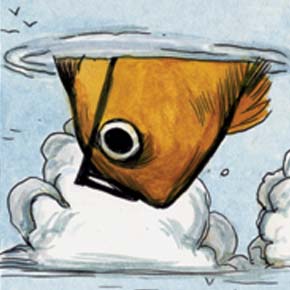 Farel Dalrymple
Farel Dalrymple has had work appear in
Spin
(May 2003),
Grendel: Red, White and Black
(Dark Horse Comics),
Caper
(DC Comics), and numerous anthologies. Farel is also responsible for the comic book
Pop Gun War
(Absence of Ink; collected edition Dark Horse Comics) for which he won the 2002 Society of Illustrators Gold medal and also received the Xeric Grant for the first issue. Farel contributed to seven issues of
Meathaus
, an experimental comic anthology, of which he co-founded and edited the first five issues. Most recently, he has drawn
Omega the Unknown
for Marvel Comics.
Farel graduated from the School of Visual Arts, resides in Portland, and in 2002 was nominated for a Russ Manning Award. For links to news and interviews go to www.fareldalrymple.com.