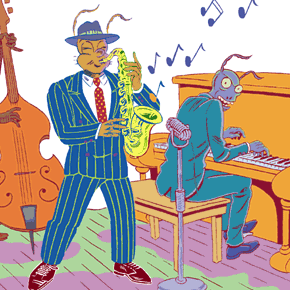 Steve Lafler
Steve Lafler's cartoon career got rolling with a seventeen issue run of his high octane, psychedelic/occult
Dog Boy
series in the 80's. He served as co-publisher and contributing artist for a twenty issue run of the
Buzzard
comics anthology in the '90s, while simultaneously dabbling with a strip about musically inclined insect men, entitled
BugHouse
.
Steve has published three
BugHouse
novels with Top Shelf Productions,
BugHouse
,
Baja
and
Scalawag
.
BugHouse
illuminates the joy of creating improvisational jazz, while detailing the pitfalls of addiction.
Baja
is a simple coming of age/love story, with a supernatural twist.
Scalawag
addresses the deep query we must all face: What is the worst thing you've ever done? And how do you come to terms with your own worst self?
Mr. Lafler resides in Portland, Oregon with his wife Serena, their two kids, and his own worst self.
Visit him on the web at www.stevelafler.net.
In the Top Shelf Catalog
Reviews & Interviews