Celebrating 10 years of MARCH with a stunning new poster!
November 9, 2023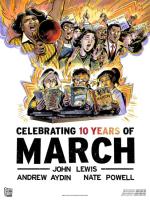 These full-color posters feature brand-new artwork from Nate Powell, evocatively depicting the educational and inspirational power that the March trilogy activates within readers of all ages and walks of life.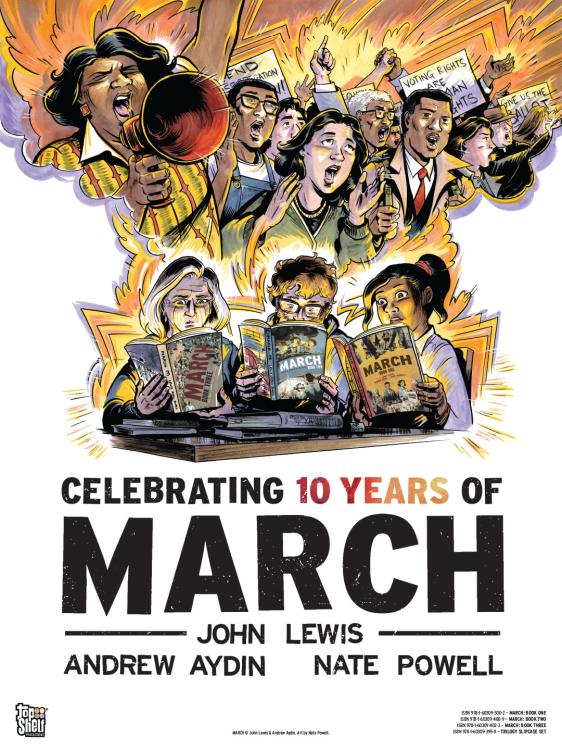 Now considered one of the most important literary and comics works of the modern century, March broke new ground from its first conception, and swiftly became one of the most widely taught comics works in the United States. Winning the National Book Award in 2016, March became the first comics work to win one of the "major" literary awards in competition. The next year, March achieved an unprecedented sweep of the American Library Association's Coretta Scott King Award, Printz Award, Sibert Medal, and YALSA Nonfiction Award, winning more ALA book awards than any other work in history. Among the series' many other honors and accomplishments, March has made over 130 appearances on New York Times Best Seller lists, often at #1, and has been translated into nearly a dozen languages.
Because of its rigorously researched primary-source-based accounts and powerful imagery, teachers have embraced March as a thrilling and sophisticated resource for students in middle schools, high schools, and colleges, while countless libraries, many of the nation's top universities, and even entire states have used March to engage in holistic dialogues through "One Book" community-wide reading programs over the past decade. Today, March is widely considered an essential work for understanding America's past and shaping its future.
The new posters "Celebrating 10 Years of March" will be distributed free of charge to comic book shops, bookstores, and libraries. Retailers and libraries are encouraged to contact their representative at Penguin Random House to request copies (SKU: MKT1000061855). While supplies last, readers can also pick up a copy from the creators, Top Shelf Productions, and IDW Publishing, at upcoming conventions.
In addition, Andrew Aydin and Nate Powell are currently scheduling their participation in reading programs for the 2024-2025 academic year. Please reach out if you are interested in organizing a community-wide reading program featuring visits from the creators.
For more details about March, including educational support resources, visit topshelfcomix.com/march. For more on Andrew Aydin, visit andrewaydin.com. For more on Nate Powell, visit seemybrotherdance.org.