Andrew Aydin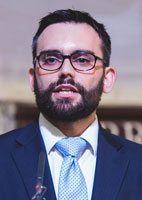 Andrew Aydin is the co-author (with Congressman John Lewis) of the #1 New York Times bestselling graphic novel series March, drawn by Nate Powell.
An Atlanta native, Andrew grew up reading and collecting comic books. After college, upon taking a job with Congressman Lewis, Andrew learned that the civil rights legend had been inspired as a young man by a classic 1950s comic book, Martin Luther King & The Montgomery Story. They discussed the impact that comic books can have on young readers and decided to write a graphic novel together about the civil rights era. The March series was born in 2013.
Today, Andrew serves as Digital Director & Policy Advisor to Congressman Lewis in Washington, D.C. A graduate of Trinity College in Hartford and Georgetown University in Washington, Andrew wrote his master's thesis on the history and impact of Martin Luther King & The Montgomery Story. His best-selling graphic novels March: Book One and March: Book Two are taught in high schools and colleges across the country. Andrew frequently lectures about the history of comics in the civil rights movement and has appeared as a guest on The Rachel Maddow Show, National Public Radio, CBS This Morning, CNN, the BBC and many other programs. He is a popular presenter at Comic-Con and at U.S. corporations and recently appeared as a guest speaker at Google and at the Apple headquarters in California.
President Bill Clinton has said of Congressman Lewis that, through March, "he brings a whole new generation with him across the Edmund Pettus Bridge, from a past of clenched fists into a future of outstretched hands." And Apple CEO Tim Cook has said that March is "a very unique way to present what is probably the most important story of my entire lifetime. My hope is that everyone reads this, and I would love to see the day that it is required reading in every school."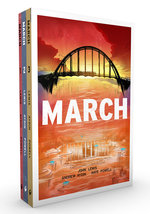 by Congressman John Lewis, Andrew Aydin, and Nate Powell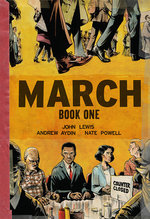 by Congressman John Lewis, Andrew Aydin, and Nate Powell
$14.95 (US)
$9.99 (US) DIGITAL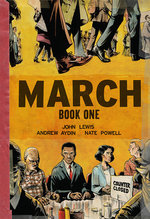 by Congressman John Lewis, Andrew Aydin, and Nate Powell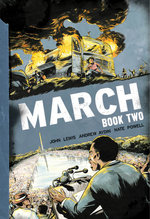 by Congressman John Lewis, Andrew Aydin, and Nate Powell
$19.95 (US)
$12.99 (US) DIGITAL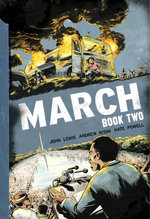 by Congressman John Lewis, Andrew Aydin, and Nate Powell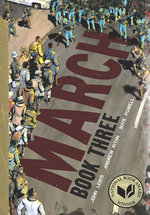 by Congressman John Lewis, Andrew Aydin, and Nate Powell
$19.99 (US)
$12.99 (US) DIGITAL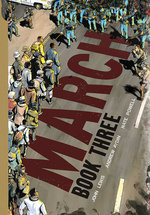 by Congressman John Lewis, Andrew Aydin, and Nate Powell