judas priest! everybody wants to be a bloody hero!
March 27, 2008
From the mouth of King Faraday, these words nicely sum up the heart behind my favorite super-hero comic i've read in well over a decade. That's right, i finally spent a few nights riveted by the masterful ideas and storytelling behind Darwyn Cooke's epic New Frontier. I'd mentioned in a previous post how beautiful the "absolute" edition of this book was, and i'm happy to report that it reads as good as it looks.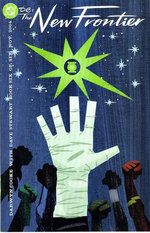 Ostensibly a retelling of the formation of DC's proto super-group The Justice League of America, this book does all that and so much more. (A scathing indictment of current neo-con philosophy and the politics of fear-mongering, for example.)
The plot comes straight out of the Silver Age era from which it sprang... a mysterious alien life form in the guise of a sentient island? Sounds hokey as hell, and well, it is. And that's part of the charm. But what really knocked my socks off was the set-up and execution. Cooke's adventure spans the exact same years that these Silver Age heros developed in continuity, from the post-war mid-forties, into the cold-war and the sixties, and ends at the "birth" of the Justice League.
I've always been more of a Marvel Zombie — though i've got my share of DC spandex in my library — but New Frontier to my mind sets a new bar for meta-continuity narratives, and has leapt to the front of the line for me as THE definitive DC super-hero comic.
Ah geez, and i haven't even mentioned Cooke's art. This is the shit, friends. Some may not have an appreciation for this "animated" style as made popular by the likes of Bruce Timm (though i think it's tops), but one cannot argue that Cooke's storytelling — his ability to tell the story from panel-to-panel and page-to-page — is literally as good as it gets.
And the appendix in the "absolute" edition is phenomenal as well.
Wikipedia has a nice entry on this, and is chock full of tasty links.
Sorry with all the gushing here... i'm just floored by this baby. In fact, so much so i did some googling on Cooke, and realized long after the fact, that he was one of the few lucky ones to have scored an issue of DCs short-lived Solo series. CRAP!! This thing came and went so fast i didn't even know it existed. Of course, i can't find a single copy in all of Portland, or online at Mile High... ARGGHH! I'll pony up a hardcover edition of From Hell for anyone who wants to trade this rare comic with me!!
• Then last night, i hung out with the Joe, James, and Randy from Oni and watched the dvd treatment of the same. It was really enjoyable, i'll say that, but i can't image how good it would be for someone who hasn't already read the graphic novel. Certainly better that most crappy Marvel animated stuff, with some nice animation and voice work, though i'd say it's a case of a movie that can't possibly live up to the standards of the book.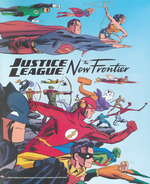 • Also read a REALLY fun comic from Image called Fantastic Comics. Edited by Joe Keatinge, this purports to be a "Next-Issue" concept series, that continues the adventures of copyright free action heroes from long-forgotten comics of the Golden Age. I truly couldn't say if this is true, but no matter, the results are a blast. The whole thing is a romp; from the kick-ass cover by Erik Larsen, and contributions by Joe Casey, Bill Sienkiewicz, Tom Yeates, Andy Kuhn, Tom Scioli, Jim Rugg, Mike Allred, and more.
More, please.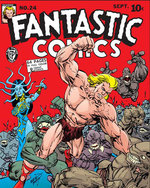 • Finally, RARE are the books i receive in the mail that are ready for Prime Time in idea and execution. Well, this is exactly what i received in my po box, with a graphic novel by Ed Laroche called Almighty. A post-apocalyptic noir crime drama, with art reminiscent of Edwardo Risso, Ed is self-publishing this intense graphic novel series. Very recommended.