In which i catch up with the authors of God is Disappointed in You, Mark Russell and Shannon Wheeler
June 24, 2014
Really cool news! Pre-orders are available for the "audiobook" of God is Disappointed in You. Soon you'll be able to hear the Voice of God, and he sounds like Dr. Venture (voice actor James Urbaniak) from The Venture Bros. The official release date is July 22nd.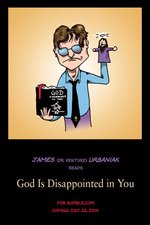 Shannon is currently at work on a new 32 page Too Much Coffee Man story for Dark Horse Presents, running as 4-8 page chapters, which they'll eventually collect in one volume. Check out this old-school cross-hatching!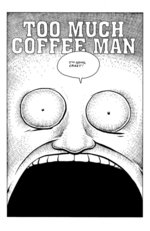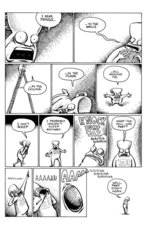 Shannon has also done 20 pages of breakdowns for a short story he's drawing, written by Mark, called Traveling to Mars for Fun and Profit.
Finally, Mark recently had a terrific essay published in Stir Journal, titled Are the New Atheists Committing the Old Mistakes?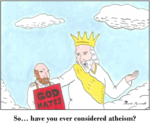 If you haven't read God is Disappointed in You, well... shame on you! It's not too late, AND it's available in a plethora of formats too.