Incredible Change-Bots Two Point Something Something
July 3, 2014
Jeffrey Brown's Incredible Change-Bots Two Point Something Something is off to the presses very soon, and it's no secret how much i love this stuff. I'm too old to have grown up with The Transformers, and so Change-Bots was my initiation into that world. He provided your gracious bartender with some great process photos of an interior spread in the new book. Thanks, Jeffrey!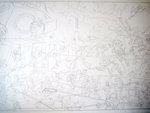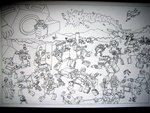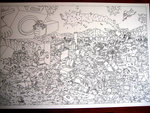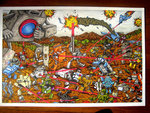 Here's the final cover, and a wicked cool trailer from the original book can be seen here.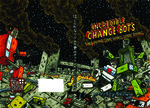 Jeffrey was interviewed by Robots with Coffee not too long ago; a quick and fun read.
Meanwhile, it's not too late too late to order Two Point Something Something from your trusty LCS (Local Comics Shop). Do it, or admit fealty to the dreaded Fantasticons!
"…wonderfully silly… genuinely childlike and playful… Just plain delightful."
—Booklist



"...really clever… [Jeffrey Brown] clearly knows his source material well… a delight to read."
—Wired.com GeekDad


Finally, here's a sweet promotional spot illustration and cover art from the deluxe hardcover editions of the first two books.