Nate Powell joins bestselling authors at the UN to benefit Darfur refugees!
October 25, 2011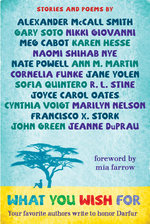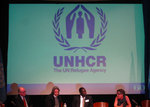 (L-R) UNHCR executive director Udo Janz, Darfur activist John Prendergast, Darfur survivor and Damanga founder Mohamed Yahya, UNHCR senior policy advisor Grainne O'Hara
Following speeches from UN officials and Darfur experts, the authors shared insights into their creative contributions, their motives for contributing, and their hopes for the book's success. Joining moderator Marcus were Nate Powell, Ann M. Martin, R. L. Stine, Jeanne Duprau (The Books of Ember), Karen Hesse (Out of the Dust), Marilyn Nelson (award-winning poet), Sofia Quintero (Efrain's Secret), and via satellite, Meg Cabot (The Princess Diaries) and Cornelia Funke (Inkheart). Both halves of the session are viewable on the UN's web site.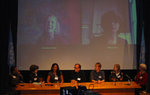 Authors Marilyn Nelson, Karen Hesse, Sofia Quintero, R. L. Stine, Nate Powell, Ann M. Martin, Jeanne Duprau, and via satellite, Cornelia Funke and Meg Cabot speaking at the UN
After the UN presentation, the authors held a signing at legendary children's bookstore Books of Wonder, taking questions from a packed house and selling out every copy of What You Wish For in the store. Books of Wonder has a recap of the event (with photos) here.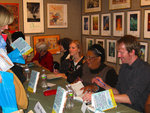 Jeanne Duprau, Karen Hesse, Ann M. Martin, Marilyn Nelson, and Nate Powell signing copies of What You Wish For at Books of Wonder
What You Wish For is a project of The Book Wish Foundation, an all-volunteer 501(c)(3) public charity. 100% of proceeds from the book's sales are donated to the UN refugee agency, UNHCR, to build libraries for refugee camps in Chad, populated by hundreds of thousands fleeing horrific violence in neighboring Darfur. For more information, visit www.bookwish.org.
Nate Powell, the only author to contribute his piece in comics form, is the Eisner- and Ignatz-Award-winning author/artist of Swallow Me Whole (Top Shelf). His newest graphic novel, Any Empire (also Top Shelf), exploring the lasting consequences of childhood war games, earned a starred review from Booklist magazine naming him "the most prodigiously talented graphic novelist of his [generation]." He can be found online at www.seemybrotherdance.org.
For more photos from the event or contact information for the Book Wish Foundation, UNHCR (United Nations refugee agency), or Putnam, please contact:
Leigh Walton
Top Shelf Productions
leigh@topshelfcomix.com
919-610-2481