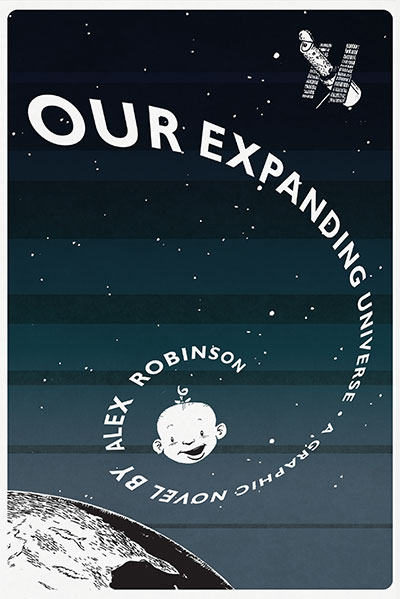 Named one of the Best Books of the Year by Under the Radar, The Oklahoman, The Comics Alternative, and Publishers Weekly!
"In Our Expanding Universe, Robinson considers the big choice — to have kids or not... It's a delight to watch him pile speech bubbles atop each other, assemble mundane elements into complicated full-page tableaux and mix realism with fantasy." — NPR
"Robinson is a genius at characterization, and masterly in weaving the friendships and relationships together; the players are so believable and real that readers will continue thinking about them long after the story concludes." — Publishers Weekly
"A definitive example of contemporary independent comics' ability to strike a personal chord with readers... genuine and brilliant, a triumph of dramatic storytelling in illustrated format." — Under the Radar
"An improbably well-balanced examination of friendship and parenthood... Robinson's storytelling is faultless."— Page 45
"Robinson excels at depicting life." — Ink 19
The award-winning author of Box Office Poison, Tricked, and Too Cool to Be Forgotten returns to his home turf, as a small constellation of city-dwellers take a frightening step into the unknown: parenthood.
Amid dinner parties, game nights, and hospital stays, a once-tight group of friends wrestle with the shifting shapes of their lives. Under the pressures of marriage and the passage of time, will they cling to the past, leap into the future, or self-destruct? Hey, not every implosion leads to a Big Bang...
A 256-page, b&w softcover graphic novel w/flaps, 6 1/2" x 9 5/8".
Praise for Alex Robinson:
"Brilliant … Through his well-rounded characterizations, naturalistic dialog, and excellent black-and-white cartooning, Robinson brings characters to vivid life." — Library Journal
"A master of the slice-of-life indie comic genre." — Publishers Weekly
"Robinson lets his flawed characters make bad decisions and resists the urge to sentimentalize their frequently bleak lives. The result is heartbreaking and eye-opening." — The Village Voice
"Alex Robinson's comics are soap operas with the self-censorship and melodrama taken out. What's left are the addictive characters, characters who seem so real you'll ponder them for days after you finish the book. … a big talent." — Bookslut
"Robinson is a true graphic novelist." — Newsarama
"Genius." — The AV Club
Reviews
---
Related Titles