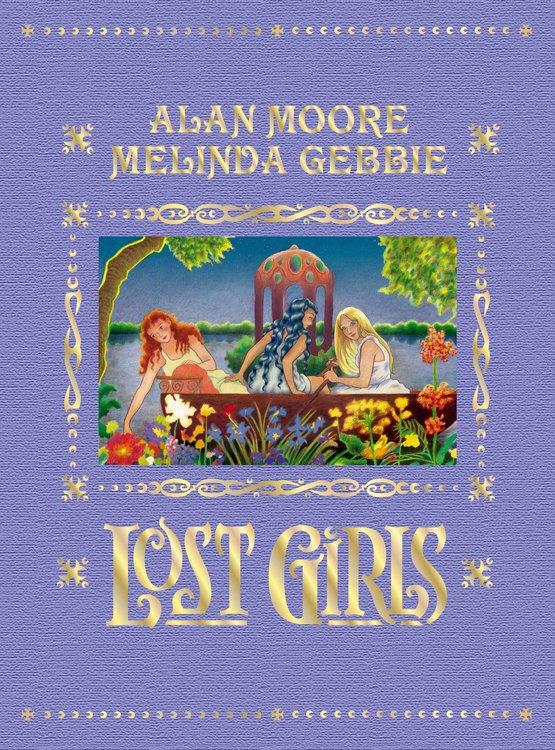 A new edition of the groundbreaking New York Times Bestseller!
"Lost Girls is to erotic literature what Moore's now classic 1987 Watchmen (with Dave Gibbons) was to the superhero scene. Each busts the frames of its respective genre with formal precision; each reflects upon its own ways and means through books within the book; and, most importantly, each kicks great writing into hyperdrive with dense and resonant imagery. — The Village Voice
"I think Lost Girls is not only one of the best things Alan Moore has ever written, I also think it's a fairly important work of art judged by any standard. It's genuinely dangerous. … One of the most human and heartfelt pieces of work of his career." — Ain't It Cool News
"Intelligent writing, intricate plotlines and gorgeous Victorian-style art." — USA Today
"As thoughtful as it is provocative." — Wired
"As an exercise in the formal bounds of pure comics, Lost Girls is remarkable, as good as anything Moore has done in his career. ... Whatever you call it, there has never been anything quite like this in the world before, and I find myself extraordinarily pleased that someone of Moore's ability actually has written that sort of comics for adults." — Neil Gaiman
The groundbreaking and controversial masterpiece of erotic comics, decades in the making, is now available in a sumptuous hardcover collecting all three volumes plus 32 pages of new artwork and commentary.
For more than a century, Alice, Wendy and Dorothy have been our guides through the Wonderland, Neverland and Land of Oz of our childhoods. Now like us, these three lost girls have grown up and are ready to guide us again, this time through the realms of our sexual awakening and fulfillment. Through their familiar fairytales they share with us their most intimate revelations of desire in its many forms, revelations that shine out radiantly through the dark clouds of war gathering around a luxury Austrian hotel. Drawing on the rich heritage of erotica, Lost Girls is the rediscovery of the power of ecstatic writing and art in a sublime union that only the medium of comics can achieve. Exquisite, thoughtful, and human, Lost Girls is a work of breathtaking scope that challenges the very notion of art fettered by convention. This is erotic fiction at its finest. -- a 352-page, full-color hardcover graphic novel (Shrink Wrapped), 9" x 12", ADULTS ONLY (18+)
CO-PUBLISHED BY TOP SHELF & KNOCKABOUT
Reviews
---
Related Titles