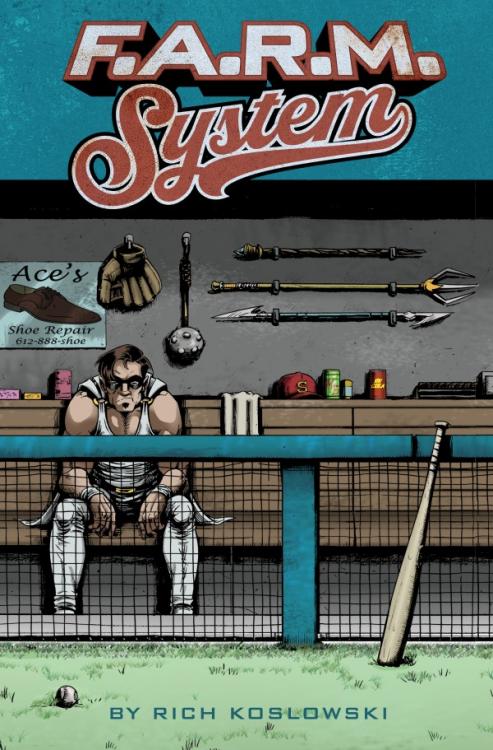 They're super-strong, but are they powerful enough for the big leagues? If superheroes were real, they'd be a lot like pro athletes. But when supers start mysteriously dropping dead, all the agents and managers in the world may not be able to save them...
"Rich melds the business model of professional sports with superhero adventuring in a compelling, heartfelt piece of entertainment. I fell right into step with the story and its reality. I expect to see a streaming show soon!" — Dan Brereton, author of Nocturnals & Giantkiller, artist of Batman: Thrillkiller
"Straight-up brilliant... Koslowski does something nearly impossible today: he creates an enthralling new superhero universe from scratch. This book hooks a reader like nothing else on the stands today and doesn't let go until the last page." — You Don't Read Comics
For every hero who saves the galaxy and makes the front page, there are a dozen staffers working behind the scenes… and a hundred up-and-comers hoping to take their place. F.A.R.M. System is your ticket to the hidden world of super-powered individuals hoping to make the Big Leagues.
In the Farm System, having an incredible and unique power is only the first step. Guided by an army of agents, managers, and experts, recruits must undergo rigorous psychological evaluations, harassment and sensitivity seminars, marketing and endorsement workshops, and costume design meetings, all to boost their chances of recruitment into an A-list super-hero team.
Some recruits make "the Bigs." Some have fleeting moments of glory, then lose it all. Some take "Blue Cowl" gigs as super-powered bodyguards for famous actors or powerful CEOs. Some flounder in the System for years, never getting "the call." And some find success by joining teams of a... less reputable ilk.
Following the profound pop-culture satire of Three Fingers, The King, and BB Wolf & the Three LPs, award-winning graphic novelist Rich Koslowski examines the hopes, disappointments, perseverance, and triumphs of the super-gifted... and the sometimes drastic lengths they will go to when money, power, and fame are on the line. -- a 208-page, full-color softcover graphic novel with 3" French flaps (6.75" x10.25")
Reviews
---
Related Titles