back from Stockholm, Sweden. sigh... I really do love this wonderful city and its beautiful people.
May 12, 2011
Great to see our Swede pals Kristiina Kolehmainen, Johannes Klenell, Simon Gärdenfors, Kolbeinn Karlsson, Mats Jonsson, Joanna Hellgren, Fredrik Strömberg, Knut Larsson, and more at the Swedish SPX in Stockholm this last weekend.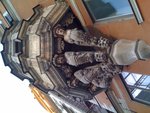 The Americans were out in force again, this year including Vanessa Davis, Trevor Alixopulos, Shannon O'Leary, MK Reed, Hope Larson, Bryan Lee O'Malley, Eric Reynolds, and Gabrielle Bell.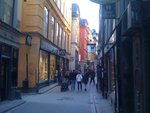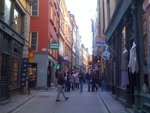 Non-Swedes i enjoyed seeing again or meeting for the first time included: Mari Ahokoivu (Finland), Bendik Katelborn (Norway), Nicolas Mahler (Austria), Kati Rickenbach (Switzerland) and Ulli Lust (Germany), and, well, that's all that comes to mind right now.
Mari gave me a boss little mini-comic, Batman #1: The Sad Issue [Adventures of The Batman including Bad Friends, Hipsters and other depressing things.] Nicolas Mahler gave me one of the comics from his new comics line called Kabinett Passage. (His own, titled Mahlermuseum.) Also met an expat named Brendan Monroe, who gave me an oversized mini titled Islands that both Eric Reynolds and myself were marveling over. Turns out he's a sweet painter too. (Evokes the fantastic realists Beksinki and Yerka, but with a more contemporary flavor.)
[From Mari's Batman]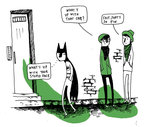 Friday night i ended up with most of the American contingent at, of all places, expat Austin English's girlfriend's (Clara Bessijelle) mom's house a short walk out of downtown for a civilian (i.e. not comics based) house party. Met another expat named Juliacks. Unplanned and unimaginable events like this are one of the things that make my job so awesome. Priceless.
[Austin and Clara]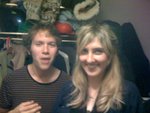 [Clara's mom Sonia and her boyfriend]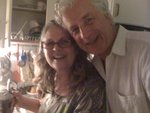 [Art by Clara]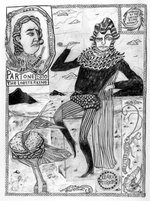 The Saturday night party was a hootenanny! Chris and i started the evening out with Anders Lundgren, Freddie Kaplan, Linda ("something," from the sci-fi bookstore in oldtown) and two folks who's names i don't recall, sucking down mai tais at a bitchin' Tiki lounge, then ended up dancing for four hours at the official festival party. I'm pretty sure it was Johannes DJ'ing no less! Gods, what a fun night.
[Chris, Anders, Freddie, and ?...]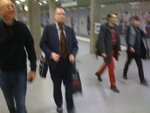 Our pal Anna Petterson took this snap of myself and Chris on the last day of the show. Great to see her!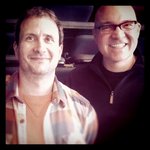 So i didn't have to carry extra weight, the single book i purchased at the show was Tour d'Europe ("The story of two aspiring yogis on a bike ride through Europe"), by Kaisa & Christoffer Leka. Kaisa produced my favorite pick-up from our last visit two years ago, On the Outside Looking In. And they're both in English! I'm not quite sure how to acquire it, but if you can, seek Kaisa's comics out... i love her work sooooo much.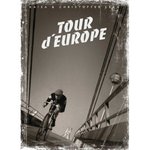 • The mighty Tom Hart is having a fund-raising campaign through Indie Go Go to launch his new comics school — The Sequential Artists Workshop — in Florida! Tom is a rock-star, and no doubt his school will be as important to the medium as James Sturms' outstanding Center for Cartoon Studies.
• Alex Robinson has a brief interview on MTV dotcom. That's rad.
• Jeffrey Brown's Change-Bots art show kicks off Friday, the 13th, in Brooklyn, at the Scott Eder Gallery. Hit it if you can.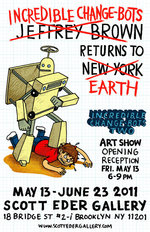 • Matt Bors has been cranking out some awesome strips called Idiot Box, that i think are up there with Tom Tomorrow's This Modern World and Lloyd Dangle's late Troubletown. Smartly written, gorgeously drawn, and funny as hell.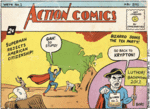 • Finally, back to the Swedes, our pal Simon Gardenfors is soooo close to their Kickstarter goal to fund a pilot episode of Paco the Judo Popcorn! Help them reach their goal, please please please?