back from sin city
January 18, 2007
Vegas was fun AND quite productive for Chris and myself. (Although it was so friggin' cold, we were both unprepared and froze out little tushies off.) We've mapped out the bulk of '07 and into '08. Stay tuned.
(Fuzzy Chris & Brett)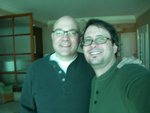 (View from my room at one of the MGM Grand condo towers. Notice the Eiffel Tower in the background.)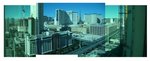 On the flight there i read the three volumes of Dylan Horrocks' wonderful Atlas, published by Drawn & Quarterly. Like his previous comic series Pickle, Atlas is a bit of a catch-all book. It has a longer running narrative (in this book, "Atlas: A Life of Emil Kopen"), as well as mish-mash typical of single-author anthologies. In the first issue, it was a James Kochalka piece, and in issues 2 and 3, the serial titled "Sam Zabel and the Magic Pen," a thinly veiled autobiographical strip concerning Sam's (Dylan's) years-long cartoonists' block. Both serials are, true-to-form, blindingly brilliant. I really hope … for Dylan's sake and the sake of comics in general … that he gets his shit together and starts cranking out the pages, because Horrocks is truly one of the world's elite cartoonists.
Let's go Dylan!
The night we flew in we went to see one of the world's best Elvis impersonators, Trent Carlini. He was shorter than The King, but he sure had the moves. Saturday night we saw Penn & Teller. We were late (thanks to an incompetent curbside service at our hotel), but P&T really impressed. Very funny and very very smart. Even their promotional imagery was excellent, and quite ubiquitous; their b&w mugs appearing on billboards, taxicabs, and in print in every brochure in town.
(This is the back cover of a tourist brochure i picked up in a taxi.)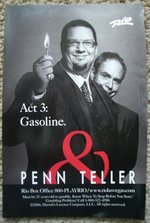 Oh, and we ate like king's every night (ahi tuna / steaks/ sushi), each time at one of the plethora of amazing restaurants in the MGM Grand. Mmmm... food.
And we certainly didn't want for hospitality or service; many thanks to Matt O'Brian from City Life: Luigi, the sommelier at Shibuya, and the beautiful waitress Alexa, a film student from San Diego. (Luigi, make sure you call me for a pub crawl if and when you come to Portland.)
On Saturday morning, while i was sleeping off a serious hangover, Chris went to the Wynn hotel, and hooked up with Elvis' right-hand man, Joe Esposito, the foreman of the Memphis Mafia.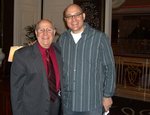 On Sunday afternoon Matt took us off of The Strip to go see the infamous comic shop Alternate Reality. And an excellent store it is, with a tasty selection, including almost the complete Top Shelf line. Nice work, Ralph!
Meanwhile:
• It snowed here yesterday, so my sister Nicky and i took Carter on a little snowy walkabout. His first one, and he had a blast. (Though he couldn't quite figure out how to keep his fingers in his gloves.)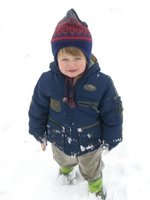 • Gregory Benton is part of yet another show in New York. This is a piece for a show in Brooklyn curated by Rich Jacobs. The concept is "blue ballpoint pen drawings on 8.5 x 11 paper". It has to do with going back to school & doodling your way through existence.
Cinders gallery in Brooklyn. The opening is Friday, Jan 19 from 7-11PM. The show runs from Jan 17-Feb 18. Some great artists involved: Jordin Isip, Eric White, Melinda Beck, Rich Jacobs... just to name a few.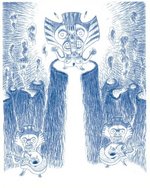 • For all you Italian speakers out there, here's a nice review of James Kochalka's American Elf.