vegas, baby!!
January 12, 2007
•Â Off to meet Staros in Vegas tomorrow, so we can map out 2007 and into 2008. While Chris and i both love working at home, and have no real problems working across the country from each other, the one thing that we just can't do so well over the phone and/or internet, is heavy planning. It's the kind of thing that has to be done face-to-face, and without interruption. (Which is also why we rarely have the time for deep planning while we're at conventions together.)
•Â Based on The Brube's enthusiastic recommendation in Criminal #2, i went out and bought Out of the Past, the classic film noir with Robert Michum. Of course, Michum is a freaking stud. He gets burned once, and then from there on out his steely resolve is absolute. The guy has ice running through his veins. But really... oh my god, Jane Greer. I'd never even heard of this actress, and let me know tell you, it's a crime. Her performance here is literally mesmerizing. Quite possibly the most intense femme fatal i've ever witnessed in a film. She smolders, she struts, and even while you know she's nothing but trouble, you can't help but want her more than anything in the world. If you like classic film, you owe it to yourself to watch this asap.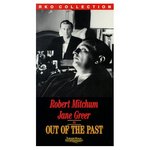 •Â Was sent Ezra Claytan Daniels' wonderful new greeting card set, Loaded Blanks. Each card is a one-page comic strip, and the word balloons are blank, so that the giver (or receiver) can fill them in to their own liking. They really turned out swell. Contributing artists include: Vincent (King Mini) Stall; Aaron Renier; Hector Casanova; Tim Degner; Tom Herpich; Ezra himself; Becca Taylor; Grant Reynolds; Jeremy Tinder; Dash Shaw; Alec Longstreth; and Dave K.
Thanks Ezra!
Art by Aaron renier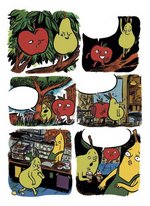 Art by Jeremy Tinder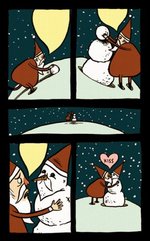 •Â Here's a teaser webpage Renee French set up for Micrographica. It has just a few images from the book and the mock up. This is going to be a sweet little book. I'm so happy to be publishing Renee's singular visionary work.