cheers to 2007
January 2, 2007
Just returned from three weeks in Australia, so i'll try and do a quick recap. (I've got to show at least a few photos, right?)
Lisa and Carter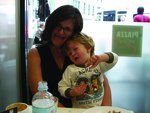 Carter and Brett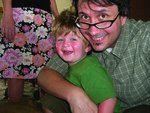 Australia. Summer. Hot. A week in Sydney, five days in Perth, then four more days in Sydney. Lots of Chinese food and BBQ. Drank like a fish, ate sweets all day every day, and gained six pounds. (Ouch.) Took Carter to see The Wiggles in person, and he had the best time of his life. He also really went apeshit at the Sydney Aquarium.
Met with Lisa's cousin Allie and her man Ash in an all Belgian Beer restaurant. If there is a heaven, this was it. Started off with a 500 ml mug full of one my all-time favorite beers, Hoegaarden. Then i had a crisp new beer, the name of which i can't remember, but the alcohol percent of 9.5% i do recall. Finished the night with a cherry-infused Kriek. And the food was great too. Yummy.
Totally got into cricket on this trip, and watched some amazing play by the Aussies to take back the Ashes (a tiny but all-important trophy) from the dreaded English, in a multi-day "test." This is an interesting sport. Since i got my dose of rugby last time i was in Fiji, now i need only get into some Aussie-rules football, and my Australian sports trifecta will be complete.
Reading material on the trip:
• The Surrogates. That's right, i finally read the very book i published last Summer (i didn't edit or do any production on this whatsoever, so it was all new to me), and it rocks! Rob and Brett have crafted a beautifully stylish and entirely fleshed out world, and a prescient cautionary tale. I only wish it was twice as long... perhaps we'll see more one day?
• Comics Journal no. 278 and 279. (Bill Willingham and Joost Swarte cover features.) And my love/hate relationship rolls on...
No. 278. Interesting interview with Willingham. He's got some bizarre politics i'm not real keen on, but i dig his ideas nonetheless, and when he also does art for what he writes, he's excellent. Three reviews that (not surprisingly) negatively reviewed Lost Girls, is called a "round-table," although i always thought that a round-table was a group of people discussing a topic TOGETHER, a back & forth. A nice yet qualified review of Renee French's The Ticking, and a nice bullet-review of Jeremy Tinder's Cry Yourself to Sleep rounds out a nicely represented batch of Top Shelf reviews.
Superb wrap-up posthumous interview with Bob Haney, a grizzled vet and DC Comics writer, and responsible for some crazy cool shit, like Metamorpho. He was a witty guy with sharp mind. Loved how he let fly with himself, and didn't care about stepping on anybody's toes.
No. 279. The Swarte interview was fine, though it was rather short, and i would liked to have heard more about his early development as a cartoonist. I was pleasantly surprised by the Johnny Ryan interview. Some good reviews (including a bash on Jeffrey Brown's Every Girl is the End of the World for Me, and some kind words for Aaron Renier's Spiral-Bound). I really loved Donald Phelps' overview of Cliff Sterrett's Polly and her Pals, and especially the piece Trina Robbin's did on a long-forgotten creator named Lily Renee, a Golden Age artist who did some amazing work featuring sexy, smart, and empowered heroines.
• Ed Brubaker and Sean Phillips' Criminal, issue #'s 1 and 2. Holy crap, these two guys are one of the best teams working in contemporary comics. Their 12-issue series Sleeper was a conspiracy infused, crime-noir super-hero masterpiece. While it was indeed tied into super-hero continuity (the "Wildstorm Universe," also responsible some awesome stuff, like The Authority and Planetary), i think it read splendidly own it's own.
Criminal on the other hand, is a straight and hard as it gets; pure 100% crime fiction, and not a whiff of spandex. It feels like classic noir, and looks like a contemporary Michael Mann film. Truly superb so far. It's beautifully designed too, also (i believe) by Sean Phillips. If Marvel isn't using a high-powered publicist to pimp this book to a wider audience, beyond the insular world of comics, then they have their heads up their collective ass. Because if comics are to ever reach the elusive "real-world" audience … which will have to be sans men-in-tights … this is as good as it gets.
It's one of the very very few books i EVER buy both serialized and (eventually) in trade paperback formats, if for no other reason than to support the creators and to help guarantee a collection.
• Peter Bagge's HATE Annual #6. More freaky goodness with seminal punk rock comics superstar Buddy Bradley, and his motley crew of misfits. You either love or hate HATE, and after all these years, is still LOVE it.
• Michael Ambrose's Charlton Spotlight No. 5. This issue spotlighted the insanely prolific Charlton stalwart Joe Gill. This one guy wrote tens of thousands of pages of scripts for a company with known mostly for their shitty printing. He tells unapologeticly how he initially took this particular gig (for way less than market rates at the time) because as basically a staff-writer instead of freelance writer, he was guaranteed a regular paycheck to support a healthy drinking lifestyle.
Also some articles about the work Ditko did for Charlton, including Captain Atom, Blue Beetle, and The Question. For my tastes, believe it or not, Ditko's work at Charlton from the early stages of his career up through, and past, his gig on Spider-Man is some of his best. Especially the stuff he did (most of which was in fact written by Joe Gill) on the horror titles. Hallucinatory and fun.
• Always on the search for nice book designs while i'm traveling, i stumbled across the work of an author i've read lots of great things about named writer Elmore Leonard. (His book Rum Punch was adapted by Tarantino and called Jackie Brown.) The jacket designs are what compelled me to pick up both Rum Punch and another book called Unknown Man #89, which were resting along with maybe two or three other crime fiction novels by Leonard, all with a luscious shared design scheme. Mostly all white over-sized paperbacks, each had the author's name a spot-varnished silver at the top, underneath of which was the title of the book, embossed, and using a color pulled from the spot illustration. Just below center was a four or five inch tall illustration than ran across full-bleed, from side-to-side, given it the effect of a movie screen. Tiny yet effective pull-quotes we added at the very bottom. The top of the spine of each book also goes the dvd route by adding a postage stamp-sized image from the cover. A nice element indeed. (And something Oni Press has been doing for years themselves.) The back cover lists the cover designs to Ghost, and the cover illustrations to Tim Marrs. If only American book publishers cared this much about design.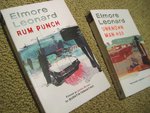 And as gorgeously designed as the books were, so too was the actual book i read on the trip, Unknown Man #89, written in 1997. I love how his characters are such normal people, who end up in wild scenarios that seem totally plausible. Not sexy at all, but gritty, chewy fun. I can't wait to read more by this guy.
I found this book at a tiny but wonderful bookshop called New Edition Bookshop in Fremantle, Western Australia. They had a copy of Jeffrey Brown's Unlikely on a modestly sized, but tasteful wall of face-out graphic novels. If only all indy booksellers were this savvy.
In Sydney i revisited a gorgeous bookstore called Ariel. I'd been here five years ago and forgotten about it entirely. This boutique bookstore carries mostly fancy artbooks, gift books, and a very few graphic novels (including Jordan Crane's Last Lonely Saturday). They had a copy of Lost Girls under glass, retailing for $175 Aussie!! I picked up a stunning book called City of Shadows: Sydney Police Photographs 1912 - 1948. My god some of these people looked rough & tumble.
*********
• On a totally different note, i've said this before, but allow me to repeat, that Tom (The Spurge) Spurgeon is the King of Bloggers. His Comics Reporter was the one comics-related blog i went to first whenever i checked in from Sydney. Recently he's been conducting interviews with some of the most important people in comics, most of whom mostly working out of the spotlight. Admirable also is his willingness to reach outside his personal tastes with a fair amount of objectivity.
• Eddie Campbell has been adding some seriously divine posts on his blog about the creation of From Hell, posting reference photos, sections of Alan's Script, etc. Besides the inherent interest of the subject matter, Eddie could wax poetic about taking out the trash, or blowing his nose, and he could make riveting reading out of it. In fact, Eddie is such a good writer, that i feel like a tool rereading some of my blog entries. He's got the magic touch, that's for sure.
Hopefully he's also busy archiving pages of his Magnum Opus, the autobiographical series Alec, which we hope to be releasing in one or two mammoth collected volumes in the next 12 - 18 months. (Maybe for a San Diego 2008 release? Eddie?)
• There's a choice Renee French interview up at Indie Spinner Rack. Oh, and they've also got a great interview posted with inkstud Sam Hiti.