happy christmukah
December 12, 2006
• Gaze in awe at this wonderful step-by-step breakdown of how Dan Zettwoch created this AMAZING poster. Wow. In fact, every image in this blog is stunning. Genius. Dan is one of my VERY favorite cartoonists -- buy his comics!!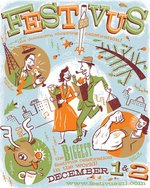 • Big thanks to Van Riker at Barsuk Records; we're doing a cross-promotion with Craig Thompson (who designed the album art for the new Menomena record), and Van and myself did a swap, so we could bone up on each other's work. So for a handful of graphic novels i received a handful of discs, all bands i've never heard of. There are a couple that blow my mind. Crazy cool stuff.
Jim Noir: Tower of Love. Crisp vocal harmonies and uplifting pop. Like G. Love on five hits of ecstasy. Like softened-up and mellowed-out Beach Boys. This is one for the hipster AND the hipster's mom. Very highly recommended.
I've heard so much about Portland's own Viva Voce, and this was fun to hear. A few of the tunes on this release, Get Yr Blood Sucked Out, didn't float my boat, but the ones that did really really rocked.
Rocky Votolato is the front-man's super cool name, and the name of the band. The record is Makers, and this too is a great great record. An acoustic singer/songwriter delight.
I also got an advance listen to the new Menomena record, Friend and Foe, and it does not disappoint. This is one of the freshest bands i've heard in years, and their chops are so tight. Complex arrangements played to infectious perfection.
Craig Thompson created one of the single most amazing cd cases in the history of music for this record. You really have to see this to believe it, and if you are a fan of Craig's work, then this is worth the price of admission alone. Unfortunately, i can't find this cover online, so you'll have to TRUST ME. You'll come for the artwork, and stay for the mind-bending music.
• Yah!! Aaron Renier has a bitchin' new website, courtesy of our own awesome webmaster, Nate Beaty. Check it out!
• Oh, and finally, before i bid adieu for a few weeks, a recent pick of Carter Grant.