hutch owen on the loose
August 11, 2006
PRESS RELEASE
Beginning Monday August 14, Tom Hart's Hutch Owen comic strip will run in the free daily METRO in New York and Boston.
Hutch Owen is an outsider and sort of philosopher of the street, crying out in a corrupt wilderness against the rampant greed, cynicism, and worship of the almighty dollar in today's culture. The "Hutch Owen" strip reflects the current American mood.
Born in Kingston, N.Y., Tom has been a popular underground/alternative cartoonist since the early '90s. He has been nominated for all major comic book awards … including the Harvey, the Eisner and the Ignatz … for his Hutch Owen books and "The Executive Hour" from his Hutch Owen: Unmarketable was recently re-published in the Best American Comics 2006.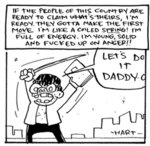 • Hutch Owen is one of my favorite characters that Chris and myself have EVER published. Wearing his bleeding heart on his sleeve, ever so intent on talking down The Man, Hutch is (warts and all) one of my heroes. …Brett