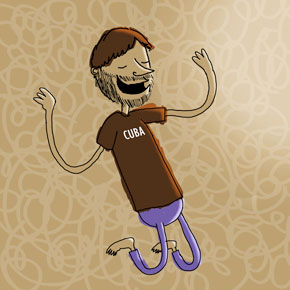 Jarod Rosello
Jarod Rosello is a Cuban-American cartoonist and writer. He was born and raised in Miami, Florida, where he was a high school history teacher. He then moved to State College, Pennsylvania to pursue an MFA degree in creative writing at Penn State University. While there, Jarod has taught many undergraduate writing courses in the English Department. Starting in fall 2010, he will begin his PhD in Curriculum and Instruction (also at Penn State) working with mini-comics in the classroom.
While Jarod loves making comics, he also writes fiction (short stories, mostly) that have been published in various literary journals, including
Sonora Review
,
Fast Forward Flash Fiction
Volume 3, and
Gulf Stream Literary Magazine
.
Jarod is married to a lovely lady named Angie (who helps fold and staple all his mini-comics), and has a terrier mutt named Lila.
You can see more of Jarod's work at
www.JarodRosello.com
.