History
Brett Warnock began publishing graphic novels and comics in 1995 with the anthology Top Shelf. Created in the spirit of promoting the careers of up-and-coming cartoonists, the anthology has since grown in scope and size, garnering critical accolades, as well as Best Anthology nominations from both the Harvey and Ignatz Awards. Publication of several other books followed, and Top Shelf began its reputation as a leader in discovering and showcasing the vanguard of the alternative comics scene.
During this time, Chris Staros was gaining his own acclaim as the American agent for several international cartoonists (such as Eddie Campbell and Gary Spencer Millidge), as well as for being the author of The Staros Report; an annual hundred-page industry resource guide dedicated to discussing the most intelligent and innovative comics in the industry. The Staros Report also garnered a Best Comics Related Periodical nomination from the Harvey Awards, as well two nominations from the prestigious Eisner Awards.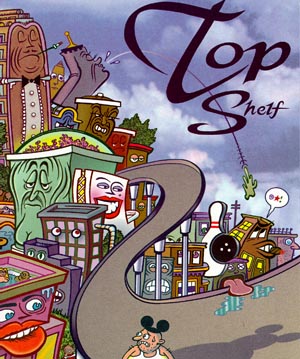 Brett and Chris first became friends, and then, at the Small Press Expo (SPX) in 1997, decided to become publishing partners in the newly formed Top Shelf Productions, Inc. Since that time, Top Shelf Productions has published over 300 award-winning and critically-acclaimed graphic novels and comic books that have helped to revitalize interest in comics as a literary art form. Most notably, mature reader graphic novels such as Alan Moore & Eddie Campbell's From Hell, Alan Moore & Kevin O'Neill's The League Of Extraordinary Gentleman (Vol III): Century, Craig Thompson's Blankets, Jeff Lemire'sUnderwater Welder & Essex County, Nate Powell's Swallow Me Whole, Jeffrey Brown's Clumsy & Unlikely, and Robert Venditti & Brett Weldele's The Surrogates; as well as all-ages titles through their "Top Shelf Kids Club" like Rob Harrell's Monster on the Hill, Andy Runton's Owly, James Kochalka's Johnny Boo & Dragon Puncher, and Christian Slade's Korgi – all of which have garnered critical accolades from the likes of Time Magazine, USA Today, Entertainment Weekly, People Magazine, Publishers Weekly, The New Yorker, and the New York Times Book Review.
Top Shelf publications are available, or can be ordered from, wherever graphic novels and books are sold. They are distributed worldwide to the book trade by Diamond Book Distributors (DBD) and are also available from Ingram and Baker & Taylor, and other wholesalers through DBD. They are distributed to the "direct market" by Diamond Comic Distributors and Top Shelf Productions.