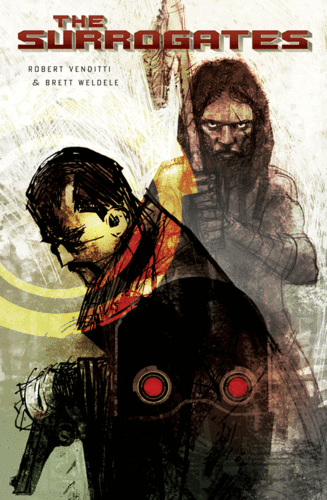 THE SURROGATES is now a major motion picture from TOUCHSTONE PICTURES, starring BRUCE WILLIS, VING RHAMES, RADHA MITCHELL, and ROSAMUND PIKE. Now on DVD and Blu-Ray!
A NEW YORK TIMES BESTSELLER!
"The Best Indie Book of the year. Sci-fi tales are making a comeback and The Surrogates is quietly leading the charge." -- IGN
"An absolutely fascinating piece of work -- heartfelt and thoughtful."
-- Fantasy & Science Fiction
"Good science fiction is hard to come by, but Venditti's blend of technology, crime drama and social commentary makes for the most original sci-fi mythology in years." -- Wizard Magazine
"Robert Venditti delivers an impressive comics debut." -- SFX
"A resplendently grimy commentary." -- Entertainment Weekly
The year is 2054, and life is reduced to a data feed. The fusing of virtual reality and cybernetics has ushered in the era of the personal surrogate, android substitutes that let users interact with the world without ever leaving their homes. It's a perfect world, and it's up to Detectives Harvey Greer and Pete Ford of the Metro Police Department to keep it that way. But to do so they'll need to stop a techno-terrorist bent on returning society to a time when people lived their lives instead of merely experiencing them.
The Surrogates is a story about progress and whether there exists a tipping point at which technological advancement will stop enhancing and start hindering our lives. It is also a commentary on identity, the Western obsession with physical appearance, and the growing trend to use science as a means of providing consumers with beauty on demand.
This volume collects all five issues of the acclaimed comic book series. Packed with bonus content, inside you will find never-before-seen sketches and artwork, as well as commentary from the creative team that brought this breakout story to the page. -- 208-Page, Full-Color Graphic Novel, 6 5/8" x 10 1/8", Diamond: MAY063435
Reviews
---
Related Titles