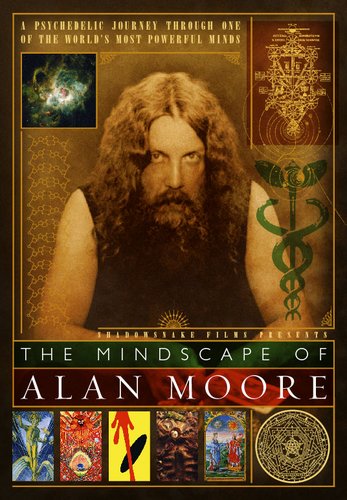 Alan Moore -- writer, artist and performer -- is the world's most critically acclaimed and widely admired creator of comic books and graphic novels. In The Mindscape of Alan Moore we see a portrait of the artist as contemporary shaman, someone with the power to transform consciousness by means of manipulating language, symbols and images. The film leads the audience through Moore's world with the writer himself as guide, beginning with his childhood background, following the evolution of his career as he transformed the comics medium, through to his immersion in a magical worldview where science, spirituality and society are part of the same universe. The Mindscape of Alan Moore is an audiovisual document of utmost relevance in the wake of current global developments. With Original Music by Drew Richards & Additional Music by Bill Laswell & Alan Douglas, Lustmord, and Spectre. Released by Shadowsnake Films.
The Mindscape of Alan Moore has been shown at many film festivals and cinemas across the globe, including Comica at the ICA Cinema (London), Copenhagen International Film Festival, Belfast International Film Festival, San Diego Comic-con Film Fest, Comicdom Con Athens, & Caption Oxford.
It was also the recipient of a "Special Recognition" Award for "Creative Achievement in Documentary Filmmaking" at the San Francisco World Film Festival.
Directed by DeZ Vylenz. Released by Shadowsnake Films (UK).
WE ONLY HAVE A FEW COPIES IN STOCK (GET THEM WHILE THEY LAST)!
Reviews
---
Related Titles