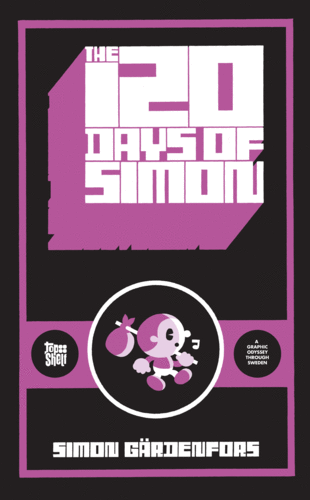 THE SWEDISH INVASION!
"The 120 Days of Simon is an alternately charming, funny and aggravating four month journal of a self-advertised, couch-surfing freeloader. Highly recommended!" -- Peter Bagge
"I wouldn't call him a hero, but I found Gärdenfors' couch-surfing, mooching, drugged, unapologetically-selfish (and self-aware) odyssey to be incredibly entertaining." -- Mark Frauenfelder, Boing Boing
"[An] insanely entertaining memoir ... The 120 Days of Simon is a ripping read and an unmissable chance to live vicariously through a Swedish underground icon with no responsibilities." --Flavorwire
The 120 Days of Simon began when Swedish cartoonist/rapper Simon Gärdenfors left his home to spend four months on the road. The rules were simple: For 120 days he wasn't allowed to return to his home, or to spend more than two nights at the same place. Otherwise, anything could happen... and it did.
This simple idea grew into an epic adventure across Sweden as Simon slept on strangers' couches, visited an ostrich farm, ate a psychedelic cactus, practiced free love, received death threats, was beaten up by teenagers, got adopted by a motorcycle gang, drank obscene amounts of alcohol, and sacrificed his underpants to the Nordic god Brage. And that's just for starters!
When this graphic novel was released in Sweden, it created a bit of a scandal. Some readers wanted to punch Simon in the face, while others hailed him as a hero. Top Shelf is proud to present this all-too-human journey to an English-speaking audience. … A graphic novel packaged in the style of a traditional pulp novel. -- A 416-Page Graphic Novel packaged in the style of a traditional pulp novel, 4.25" x 7", Diamond: FEB10-1095
Reviews