"Hey Princess" added to cart.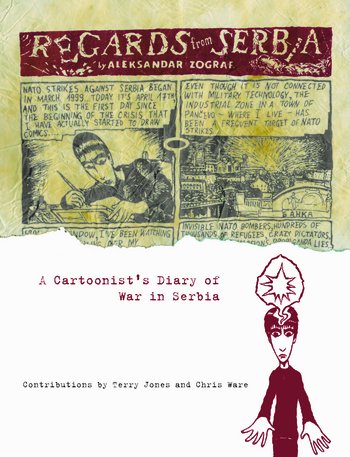 "The Serbian cartoonist Aleksandar Zograf has created some of the most compelling comics of the last 15 years. His war stories about the 1990s in the former Yugoslavia, heartbreaking dissections of the cartoonist's inner and outer life as his world fell to pieces all around him, are as fine a group of testimonials as exists concerning the emotional and physical disruptions caused by proximity to death and destruction." -- Tom Spurgeon, The Comics Reporter
As the NATO bombs fell on his hometown of Pančevo in 1999, Serbian cartoonist Aleksandar Zograf used his diary comics and e-mail to reach out to the world and offer a glimpse at the effects of the attacks. Over the weeks and months of the war, Zograf documented not only how the bombings shattered the lives of his friends and neighbors, but also how the routine of daily life remained unchanged. The most recent attacks on Pancevo's oil refinery are contrasted with the latest local soccer matches -- and American propaganda flyers are as likely to fall from the sky as American comics are to arrive in the mail.
In today's ratings-driven era of globetrotting correspondents and embedded reportage, Regards From Serbia rings with the truth of a man who had the headlines come to him, and offers a comprehensive account of the conflict as only a local could tell it. -- 288 pages, paperback. Diamond: NOV063909
Reviews