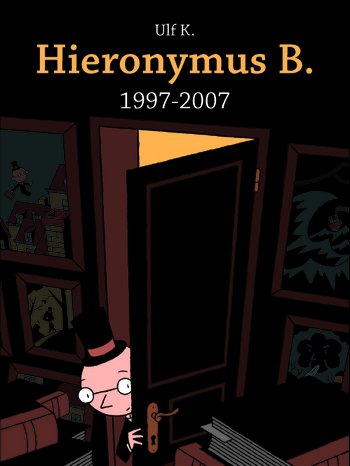 Hieronymus B.
by Ulf K.
$14.95 (US)
ISBN 978-1-60309-008-7 - Diamond: JAN083928
"If you should be lucky enough to see this book in your comic shop on Wednesday, snap it up immediately, take directly it to the cashier, buy it and do not pass Go. ... Whimsical without being cloying, and featuring some truly stunning line work, Ulf K deserves a wider audience in the States." --Chris Mautner, Blog@Newsarama


Top Shelf is proud to be one of the five international publishers simultaneously releasing HIERONYMUS B., the all-new HARDCOVER graphic novel from the award-winning German cartoonist, Ulf K. Ulf is best known for his endearing silent stories, and this graphic novel … featuring tales of the loveable and humble clerk, Hieronymus B. … will be sure to charm everyone. Ulf K. has been illustrating the (silent) tales of Hieronymus B. for ten years now, and it's time that the American comics audience got a glimpse of what this amazing cartoonist has been up to. -- 64-Page Hardcover Graphic Novel, 5 1/2" x 7 1/2"
Reviews