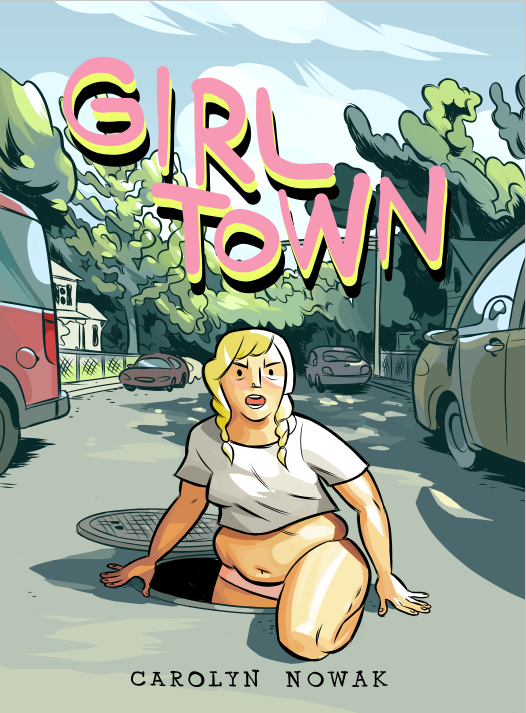 Nominated for the 2019 Eisner Award!
"Nowak tosses off more wildly imaginative ideas per page than some creators have over their entire careers." — Library Journal (starred review)
"These stories… illuminate something profoundly familiar and deeply resonant about women's interactions, relationships, and ways of being in the world... Though her playful art, bright colors, and sly humor might make this seem light and breezy, there are poignant, surprising undercurrents here, and they are simply captivating." — Booklist (starred review)
"Spellbinding... Nowak plunges into the world of feminine friendships in earnest. The girls in this book are flawed, unique, and complex... Girl Town is a cerebral, spirited work of art." — Foreword Reviews (starred review)
"Magical in the tradition of Allende, Borges, and Okazaki… You don't finish the stories collected here so much as emerge from them: wistful, yearning, and as from all the best dreams, changed." — The Verge (Best of 2018)
"Messy in the best, most invigorating way... Girl Town, like its protagonists, is caught in a swell of uncertain feelings, and will stick with you long after you've finished the short stories within." — Paste (Best of 2018)
"Exquisitely illustrated... captures the intensity and the absurdities of female relationships." — Publishers Weekly (Best of 2018 Critics Poll)
"Each story is quirky and thoughtful... deeply Millennial in every way possible." — Tor.com (Best of 2018)
"Poignant and funny." — Barnes & Noble (Best of the Month)
"Nowak's comics always hook me from the first panel. It's such a joy to be surprised, entertained, and touched by the sexy, sweet, fully-realized worlds she creates in each of her stories." — Lisa Hanawalt, creator of Tuca & Bertie
"I raise my glass, tip my hat, and set off a million dollars worth of fireworks to Carolyn Nowak's electric brain, electric fingers and eclectic, electric storytelling smarts. What a wise, sad, funny, exhilarating book!" — Kelly Link, author of Get in Trouble and Magic for Beginners
Diana got hurt — a lot — and she's decided to deal with this fact by purchasing a life-sized robot boyfriend. Mary and La-La host a podcast about a movie no one's ever seen. Kelly has dragged her friend Beth out of her comfort zone... and into a day at the fantasy market that neither of them will forget.
Carolyn Nowak (Lumberjanes) uses fantasy worlds to explore profound truths. Her solo debut, Girl Town, collects the Ignatz Award-winning stories "Radishes" and "Diana's Electric Tongue" together with several other tales of young adulthood and the search for connection. Here are her most acclaimed mini-comics and anthology pieces, enhanced with stunning new colors and joined by brand-new work.
Bold, infatuated, wounded, or lost, Nowak's girls shine with life and longing. Their stories — depicted with remarkable charm and insight — capture the spirit of our time. -- a 160-page, full-color softcover graphic novel with French flaps, 6.5" x 9"
Reviews