November 9, 2011
MIX. Minneapolis Indie Expo. So much fun was had at this show. Lots of great catching up with friends. Met new ones, like Grimalkin Press' Jordan Shiveley. Little children literally freaking out over our Kids Club books. I try to travel light, but did come home with some good loot, including new stuff from Joe Biel at Microcosm, a sketchbook (and dinner!) from Annie Koyama, two new issues of Jon Lewis' True Swamp from Tom K.'s new press, Kevin Cannon's Beard Hero, and Tim Sievert's new mini-comic, The Clandestinauts. And more from Chris Pitzer at AdHouse. And some rad stuff from the impossibly cute posse of girls at Paper Darts.
Super props to Andy Krueger and Sarah Morean for rocking another great show.
Oh, and speaking of Tim Sievert, here's the wraparound cover i commissioned from him, for my new Fantasy/Sci-Fi themed sketchbook. Sweet!!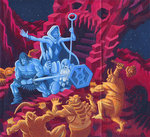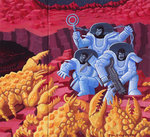 Stumbled across a nice little used bookstore called James & Mary Laurie Booksellers, on Nicollet Mall. Picked up a bitchin' book on Hollywood Westerns, a gorgeous, fully painted book on extinct animals, and a wonderful little illustrated book drawn by the great great Maurice Sendak, titled How Little Lori Visited Times Square (1963).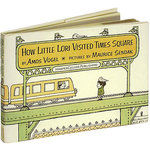 On the food front, found and ate at terrific all-sustainable eateries every day. They were all outstanding. Restaurants included: Red Stag Supperclub, Spoonriver, Brasa, and Sea Change.
• This isn't under the radar, but neither is it widely known that Renee French is working on a total revamp of her classic, out of print book The Soap Lady. Here's some notes she's been making in this massive undertaking. "I'm working on cleaning up the missing pages of handwritten text for the soap lady redux book. I have it stuffed with little postits."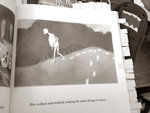 • Geekdad talks Top Shelf Kids Club with Leigh Walton at Wired.
• Jeremy Eaton continues his spectacular metamorphous with his new art blog. His work is crazy good and always worth checking out.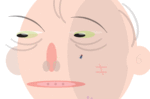 • Here's a rough cover sketch for Jeffrey Brown's forthcoming, A Matter of Life graphic novel.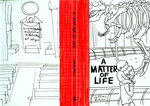 • Finally, in the whirlwind world of Jennifer Hayden, she's got a lot going on! [Aspiring cartoonists take note. This is textbook self-promotion.] Check it:
"Thursday, November 10, 7:30 p.m., I'll be speaking on a panel, "Backgammon, Blackberries & Barbarians" at the Princeton Arts Council in Princeton, NJ, with two other Princeton graphic novelists Galit Seliktar Barak (Farm 54) and Mike LaRiccia (Too Fast). The moderator will be children's author and graphic novel editor Galen Longstreth.
"Saturday, November 12, 8:00-11:00 p.m., it's the rescheduled-due-to-snow-in-October launch party for UNDERWIRE at Bergen Street Comics in Park Slope, Brooklyn! Yeah! Booze, bubbly, books, family members, live music, Sharpies, outta control.
"Wednesday, November 16, 7:00 p.m., my first UNDERWIRE reading in NYC, at BookCourt in Brooklyn! Dean Haspiel will MC, and I'll be joined by George O'Connor, reading from his gorgeous book Hera: The Goddess and Her Glory, and Leslie Stein, reading from her cool book, Eye of the Majestic Creature.
"Friday, November 18, 8:15 p.m., I'll be participating in a "Literary Death Match" at Bardot in Miami, FL, which I hope doesn't involve any actual death. I'll be competing with Mat Johnson (Pym), T.M. Shine (Nothing Happens Until It Happens To You), and Sandra Beasley (Don't Kill The Birthday Girl), hosted by Todd Zuniga. Judges will be Chuck Palahniuk (Fight Club, Damned), Dean Haspiel (Bored to Death), and Justic Torres (We the Animals).
"Sunday, November 20, 11:00 a.m., I'll be speaking on a panel at Miami Book Fair International called "2011 Favorites and New Classics", with Vera Brosgol, Shannon Wheeler, and Matt Phelan, moderated by John Hogan and Jeff Newelt.
"Sunday, November 20, 4:00 p.m., I'll be speaking on a panel at Miami Book Fair International called "Comics and Autobiography" with Jason Shiga (Empire State) and Mark Kalesniko (Freeway), moderated by John Hogan (editor, Graphic Novel Reporter.)
"And check out my new blog post I wrote for Trip City, concerning chicken broth and motherhood.
And you can also check out my new webcomic S'Crapbook there, "Moments of Shirley"