April 18, 2011
No surprise, but Stumptown was a blast. I just unpacked all the sweet loot i brought home, and will cover some of that later. Colleen Coover and Paul Tobin's Gingerbread Girl was a smash success, selling out of the 100 copies we brought along with us, and Jeffrey Brown had a constant line, waiting for a signature. We sold a boatload of his new Incredible Change-Bots Two. I do love this show. Next up for this bartender... Stockholm, Sweden, baby!!
• Speaking of Sweden, please check out the Kickstarter campaign for our pal Simon Gardenfors and the project titled Paco the Judo Popcorn: A Cartoon for Kids.

• So yeah, check out these bitchin' launch party posters for Liar's Kiss, designed by the writer Eric Skillman, and drawn by the artist Jhomar Soriano. Wow.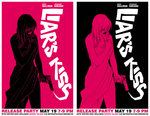 • I missed MoCCA this year, and i'm bummed to have missed out meeting the great Brecht Evens. Pascal Girard made this terrific cartoon diary talking about the force Brecht was on the proceedings, care of The Comics Journal.