all hail the great Eddie Campbell...
June 30, 2009
<Alec: The Years Have Pants has left the building. It is en route to the printer as i type this, and fer f*cks sake, if there are only a small handful of must-have books of the year, this is one of them. Some of the most important, intelligent and human autobiographical fiction to ever see print. No less than 640 pages of comics goodness, all resting under sublime covers (softcover AND hardcover) designed by Eric Skillman.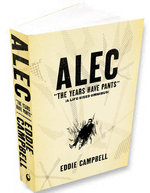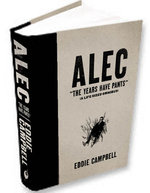 Like i said. Must. Have.
• So-many-cool-new-books/minis/comics/etc-no-time-for-lengthy-reviews Episode #43
If it appears here, it has my absolute stamp of approval. And i do recommend at least checking this stuff out.
- Re-read Rafael Navarro's brilliant Sonambulo: Sleep of the Just, since it came out eight years ago. It has aged exceptionally well. A luchador detective crime noir thriller. Oh, and the hero Sonambulo never sleeps, instead catching everyone else's dreams.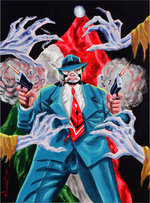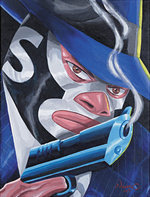 - Finally read Andi Watson's wonderful family story titled Little Star. (Oni Press.) Three years late, but worth the wait. Andi's evolution as a storyteller and as an artist over the years is incredible.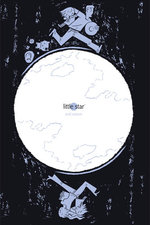 - Hey 4-Eyes #4. Robyn Chapman's fabulous zine about eye-glasses and the people who wear them. Tons of contributors, including the insanely talented Joseph Lambert.
(Art by Tom K.)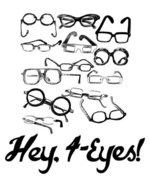 - Trubble Club III. The gang-bang of comics jams, this awesome mini proves wrong the rule that jam comics by nature suck butt. The art alone is worth the price of admission, but these short little ditties actually deliver.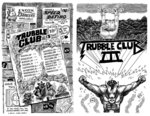 - Jewish Memoir Goes Pow! Zap! Oy! [On Autobiographical Graphic Novels and Why They are so Jewy], by Miriam Libicki. I've been a real big fan of Miriam's drawn essays chronicling her time spent in the Israeli army, but this is a smart and entertaining departure. Originally made for and featured in The Jewish Graphic Novel: Critical Approaches.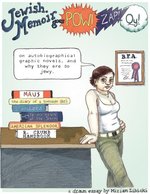 - Monkey Island. Self-published by Matt Rota. Good gods this guy can draw. Seriously, check out his site and feast your eyes.