HISTORY
January 1, 2010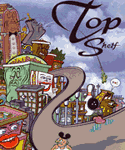 During this time, Chris Staros was gaining his own acclaim as the American agent for several international cartoonists (such as Eddie Campbell and Gary Spencer Millidge), as well as for being the author of The Staros Report; an annual hundred-page industry resource guide dedicated to discussing the most intelligent and innovative comics in the industry. The Staros Report also garnered a Best Comics Related Periodical nomination from the Harvey Awards, as well two nominations from the prestigious Eisner Awards.




Brett and Chris first became friends, and then, at the Small Press Expo (SPX) in 1997, decided to become publishing partners in the newly formed Top Shelf Productions, Inc. Since that time, Top Shelf Productions has published over 200 graphic novels and comic books that have helped to revitalize interest in comics as a literary art form. Most notably, Alan Moore & Eddie Campbell's From Hell, Alan Moore & Melinda Gebbie's Lost Girls, Alan Moore & Kevin O'Neill's The League Of Extraordinary Gentleman (Vol III): Century, Craig Thompson's Blankets & Carnet de Voyage, Eddie Campbell's Alec: The Years Have Pants, Andy Runton's Owly, and Jeffrey Brown's Clumsy & Unlikely, which have garnered critical accolades from the likes of Time Magazine, USA Today, Entertainment Weekly, People Magazine, Publishers Weekly, The New Yorker, and the New York Times Book Review. Perennial favorites also include: Alex Robinson's Too Cool To Be Forgotten & Box Office Poison; Jeff Lemire's Essex County; Jeffrey Brown's Sulk series; James Kochalka's American Elf & Johnny Boo; Matt Kindt's Super Spy; Nate Powell's Swallow Me Whole, Kevin Cannon's Far Arden, Christian Slade's Korgi; Renée French The Ticking; & Robert Venditti & Brett Weldele's The Surrogates (which is now a major motion picture from Touchstone Pictures).




The future promises stellar new releases sure to appeal to both connoisseurs of superb narrative art and fans of engaging pop culture, as the Top Shelf line of books are ideally suited to attract new readers into the comicsphere. In 2010, with bluechips like The Marshal Law Omnibus by Pat Mills & Kevin O'Neill, The League of Extraordinary Gentleman (Vol III): Century #2: 1968 by Alan Moore & Kevin O'Neill, The Collected Bojeffries Saga by Alan Moore & Steve Parkhouse, and new hardcover & softcover editions of Blankets & Carnet de Voyage by Craig Thompson; our first foray into Manga with Ax (Vol 1): A Collection of Alternative Manga; ground-breaking works like The Playwright by Daren White & Eddie Campbell; cutting-edge releases like The Homeland Directive by Robert Venditti & Mike Huddleston, Superf*ckers by James Kochalka, Super Spy: The Lost Dossiers by Matt Kindt, and Undeleted Scenes & Incredible Change-Bots (Vol 2) by Jeffrey Brown; an April Swedish Invasion featuring Hey Princess by Mats Jonsson, The 120 Days Of Simon by Simon Gardenfors, and The Troll King by Kolbeinn Karlsson; new talent bringing outstanding works into the family such as Moving Pictures by Kathryn & Stuart Immonen, BB Wolf & The 3 LP's by J.D. Arnold & Rich Koslowski, We Can Fix It & Chester 5000 by Jessica Fink, Finger Prints by Will Dinski, and Night Animals by Brecht Evens; and new all-ages graphic novels such as Dragon Puncher (Book 1) & Johnny Boo (Book 4): The Mean Little Boy by James Kochalka, and Korgi (Book 3): A Hollow Beginning by Christian Slade -- it's going to be an amazing year!




Top Shelf publications are available, or can be ordered from, wherever graphic novels and books are sold. They are distributed worldwide to the book trade by Diamond Book Distributors (DBD) and are also available from Ingram, Baker & Taylor, Bookazine, Partners West and other wholesalers through DBD. They are distributed to the "direct market" by Diamond Comic Distributors, Last Gasp, and Top Shelf Productions.