go dog, go!
May 11, 2007
Holy crap... i've just been so freaking busy, i can't even think straight. Getting books "to bed" for the convention season has me working my ass off. Here's the massive number of books we have on press now or on route to the printer:
Super-Spy
Death By Chocolate: Redux
Seasonal Sampler
Fox Bunny Funny
Incredible Change-Bots
• Meanwhile, i have read a few items worth mentioning as of late. First, and one of the most highly recommended prose books of the year, is by my pal Willy Vlautin, of the band Richmond Fontaine. His first novel, titled The Motel Life is heartwarming and heartbreaking in the same breath. Willy gave me the British paperback version by Faber and Faber, and i also bought the U.S. version by Harper Perennial, after i saw Willy do a reading at Powell's City of Books here in Portland.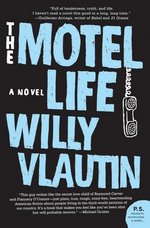 Both versions of the book have beautiful illustrations and covers by Top Shelf webmaster Nate Beaty. I like the package of the UK version better, but the US version has an extra section in the back called "P.S.," which features an interview, song lyrics, and the like, so that version is cool too.
The book has been receiving incredible reviews, with comparisons to the likes of John Steinbeck, Raymond Carver, Denis Johnson, and Nick Cave.
When i met with Willy a few weeks ago to swap books with him, he also gave me an advance copy of the new Richmond Fontaine album, 13 Cities. Now, i know this sounds like a "but he's my friend" gush-fest, but in all seriousness, this new record by Fontaine is an aural masterpiece. Hands down their most layered and textured record ever. I've probably listened to this 50 times in the last month,
• Based on a recommendation at Cartoon Brew, i went and bought the new 150th Anniversary issue of DC Comics' Looney Tunes.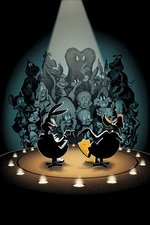 Among others this fun little gem features contributions from (writer) Joey Cavalieri, Stephen Destefano, Peter Bagge, Bob Fingerman, Aaron Renier, and Chynna Clugston.
Also new from the all-ages DC imprint, is the new issue (#33) of Justice League Unlimited, written by Jason (Pistolwhip) Hall. It features a classic polar-opposites turned friends buddy story with the elder Crimson Avenger, and hipster youth Star Girl. Art chores by Carlo Barberi and Bob Petrecca do a superb job of capturing the best of the "animated style," while retaining a unique style all its own. I dig the occasional issue of the DC animated books, since they often showcase some of the indy peeps.
• Somehow i was sent this nifty piece of art by Art Adams (with Nick Bradshaw), from the story Seven Seas, in a book called Dream Compass, by Chris Stevens. The book also features art by Farel Dalyrmple, Jae Lee, Stephen Gilpin, Nate Powell, and James Jean.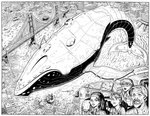 • There's so much more to write about... reader (and cartoonist, about whom i shall blog more on at a later date) Josh Frankel asked me wherefore mine own basketball thoughts. Ah yes, the second round, what fun it is. Again, more later.
I'm going to have to do just this quick update, since i'm just too buzzed to write more … having just returned from a few rounds of beers with Steve Lafler, Garret Izumi, and Scott Mills … and i need to get SOMETHING up before i leave town this weekend.