lost girls lost girls lost girls
March 25, 2006
No excuses for not posting these last few days, but damn, so much happening. As i wrap up everything on Lost Girls, i needed to make PDFs of each book for Staros to do a final review of... each book as a PDF is over 500MB. This is so huge, it was bogging down my computer so badly, i couldn't perform any other functions. Crazy crazy stuff. Needless to say, this last minute stress is so worth the fact that we're THIS close to sending the book to the printer. It's been a long long time coming.
Meanwhile, waiting for cds to burn and what have you, i got caught up on a little reading.
• Papercutter #2 (Tugboat Press).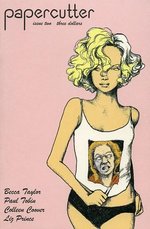 Edited by Greg (Clutch) Means, this is the little anthology that could. I'd say this is the most vital of all current anthologies at the moment -- in part because it's so unassuming, and given it's smaller, mini-comic stature, so much less pretentious in this age of excessive & gratuitous anthologies.
The cover and lead story are by a cartoonist new to me, Becca Taylor, and boy do i love this strip, title "Cherchez la Femme." Told in a unique montage style, and rendered with a fine line and occasional grey-tones, Becca's tale jumps through time and ostensibly tells the tale of a controversial actress's life story. But lurking beneath this simple plot lies a subtext that explores gender roles in Hollywood, the hot & cold trajectory of celebrity, and a scathing indictment of the role of the media in all of this. Excellent.
Next is a fabulous mystery fairy-tale called "Criminal Intent," by Colleen Coover and Paul Tobin, which could almost be called an "Elseworlds" story about Catwoman. It's a simple enough idea, about a hottie cat-burglar who steals not just jewels and what have you, from a small (British?) town, but also the hearts of the townsmen too. But what makes this strip really cook is Colleen's incredible art. Coover is developing a style of magic realism that border's on sublime, reminding somewhat me of Hope Larson's beautiful work. Colleen Coover is the real deal, and i can't wait to see what she does next. That is, after the release of her collected Oni book, Banana Sunday.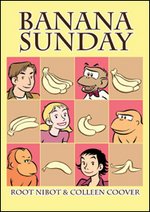 Last up is a cute little 3-pager by Liz Prince, "Ghost Buddies," that stretches her single-page strips as seen in Will You Still Love Me if I Wet the Bed?, and works towards developing a slightly longer narrative. Fanciful and fun, it's great to see Liz getting more of her work out there, knowing that her admiral goal at the moment is finishing school.
•Â Comic Effect #44.
Jim Kingman's Comic Effect is an old-school zine about one man's love of comics, and it can be quite infectious. While he holds the door open for other contributors, ultimately the zine is fully infused with Jim's sensibilities, and his proclivities towards Silver Age DC Comics. There are occasional nods towards a variety of subject matter, including a props for a few Top Shelf books, but for the most part, it's an unapologetic love fest for men-in-tights comics. (Which is why i love this zine so much, being a fanboy myself.)
But the essay that grabbed me most in this issue, is a treatise by Jason Sacks on DCs ill-fated comic book from the late 60's (under the experimental editorship of Carmine Infantino, i believe), of Joe Simon's wacky Brother Power the Geek, #1 & 2. After a little bit of background, Sacks goes on at length to describe the contents of what can only be called a Dada-esque ride, comparable to some of the more esoteric works by our contemporary madman Grant Morrison.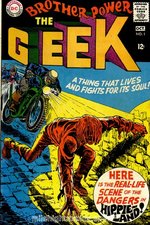 Now, i realize there's probably zero chance that DC would ever collect these two issues into one prestige format book, but for the record, i'd buy it!!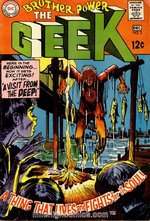 •Â Not sure if anyone cares, but here's what i'll be looking to pick up come June, from the new Diamond Previews catalog. But first, can i just say how absolutely freaking stupid the new "Spider-Man" costume looks. Wow. This is really really lame. (I haven't read anything about it actually... certainly none of the comics. And i don't intend to, no offense to the WFH creators.)
From front to back.
DC COMICS:
Absolute Kingdom Come. This is how Alex Ross (whose work is fascist, according to some) should be seen. Especially the wildy over-the-top shit like this. (His "serious" comics, with Paul Dini are played WAY too straight, and suck pretty bad, for my tastes.)
Seven Soldiers of Victory vol. 4. I'm waiting until this is all collected before i dive in, which is how i prefer to read finite projects.
Showcase Presents Elongated Man. Worth the price of admission for the Gil Kane Batman back-ups alone. Wacky wacky stuff. This is a perfect example of why i'm liking DC's b&w phonebooks so much more than the Marvel Essentials. (Plus they have better trade dress and overall production values.)
MARVEL:
The Eternals oversized hardcover, by Jack Kirby. 'Nuff said.
Daredevil vol. 5 oversized hardcover. The end of Bendis' definitive and superlative run. Just amazing comics. (I hear The Brube is doing well out of the gate as the new writer taking over with this title. Looking forward to it... here's hoping Marvel will continue with the hardcover collections.)
FF / Iron Man: Big in Japan tpb. Seth Fisher's final major work, drawn on location in Japan. Worth buying for the pictures alone.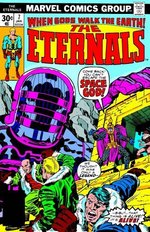 DARK HORSE:
B.P.R.D: The Black Flame. Guy Davis is amazing.
The Artist Within. Greg Preston's BRILLIANT collection of photographs of cartoonists in their own studios. This is a book that got away from us... we simply dropped the ball with Greg, and he (rightfully) bailed to Dark Horse. I literally cannot recommend this book enough. Every portrait is a masterpiece. Order one now.
The Comics, by Jerry Robinson. I've been looking for a good-condition copy of this highly regarded historical tome for years, and now the wait is over. Beautiful cover too.
IMAGE:
Fear Agent: Re-Ignition tpb, by Rick Remender and Tony Moore. Tony Moore blew me away with his work on the early issues of Walking Dead, and Rick made me laugh my ass off at WonderCon this year, so i'm jumping in blind.
(maybe) The Drowners, by Nabiel Kanan. I've heard nothing about this, and since his work is hit or miss for me, i'll wait until i hear something about it. Anything.
AdHOUSE:
- Skyscrapers of the Midwest, by Josh Cotter. A new issue of some fabulously deranged comics. Gets under the skin, it does.
DRAWN & QUARTERLY:
Get A Life, by Dupuy & Berberian. One of the French greats, by a team who is virtually flawless. Can't wait to be reading this. Good job D&Q.
Maybe Later, also by by Dupuy & Berberian. A production diary of sorts, breaking down the odd way in which they divide their duties.
FANTAGRAPHICS:
Pussey!, by Dan Clowes. The only collection of his Eightball oeuvre i don't already own, FINALLY back in print. Goddamn funny comics.
Bardin the Superrealist, by Max. Fanta gets into the euro-reprint game, this one by the Spanish master.
Comics As Art. A history of Fantagraphics, by ex editor-in-chief of the Comics Journal, Tom Spurgeon.
Passionella and Other Stories, by Jules Feiffer. I have a battered old softcover edition of this, and would love to have a nice new hardcover. Kudos. (This is hands-down my favorite era of Feiffer's career. His acerbic handle of the neurosis of the Cosmopolitan 50s is wonderful.)
IDW:
Tommyrot: The Art of Ben Templesmith. When this guy is on, he's astounding. In the Impressionist school, his work on the 30 Days of Night trilogy (with Steve Niles) rocks.
VANGUARD:
- Wally's World. Vanguard has a varied track record with their production values. If this looks good, who can't resist an illustrated biography of Wally Wood.
(Publisher unknown)
- Art Out of Time, edited by Dan Nadel. Well Nadel is really cranking out some great stuff these days … including a feature on Renee French in the current issue of Print magazine. And this glorious looking art book, highlighting 30 (mostly) unknown American comics artists from the first 2/3rds of the 20th Century looks to be a must-have reference. (Crossing my fingers that the production values kick my ass. But if it's as nice as Nadel's zine, the Ganzfeld, i have nothing to worry about.)
Still want to mention some nice comments about Andy Runton's Owly series in a recent edition of the School Library Journal. Next time.