wondercon part 2, and so much more
February 18, 2006
Wow. I have been so pummeled since returning home from San Francisco. (Last of the WonderCon notes to follow.) I thought maybe folks might be interested in knowing exactly what the hell i actually do here at Top Shelf, so i'll make a laundry list of stuff i've done since i woke up Tuesday morning (in addition to being a full-time stay-at-home Dad with a sick kid), or things i am currently wrapping up.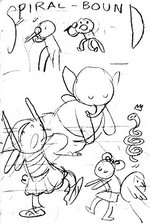 •Â Assembled and emailed out all of Craig Thompson's book covers for the 2007 editions of Novel & Short Story Writer's Market and Artist's & Graphic Designer's Market.
•Â Formatted and emailed Jeffrey Brown's new cover (Every Girl is the End of the World for Me) to Wizard, for inclusion in an upcoming installment of the "Secret Stash" column.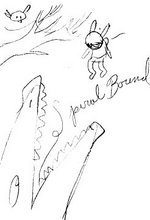 •Â Sent art and cover for Max Estes' Coffee & Donuts to Neil Figuracion, for a review over at Broken Frontier.
• Worked back & forth several times with Rob Venditti, Brett Weldele, and (designer) Jim Titus on finalizing the cover for the trade paperback edition of The Surrogates. (It's gonna be sweet!)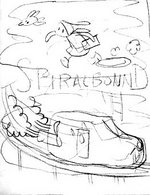 •Â Responded to interview questions from Mark Nevins, for the outstanding Swiss comics magazine, Strapazin.
•Â Formatted and emailed out 10 pages from Alex Robinson's Tricked, for inclusion in the Anne Elizabeth Moore edited Best American Comics anthology.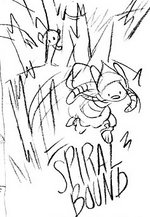 •Â Finalizing details for a big pre-APE signing at Joe Ferrara's Atlantis Fantasy World in Santa Cruz, including Renee French, Alex Robinson, and Jeffrey Brown.
•Â Reviewing and responding to Aaron Renier's preliminary designs for two postcards. One general postcard promoting his book Spiral Bound, and the other, our Christmas card for 2007.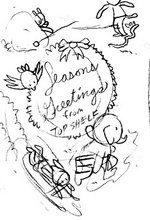 • Brokered a little swap with Arts Editor Natalie Nichols from L.A. City Beat, for a couple copies of their recent all-comics issue.
• Formatted and emailed the inside covers of Derek Kirk Kim's Same Difference and Other Stories to his Italian editor Laureanno Dominguez, at publisher Astiberri.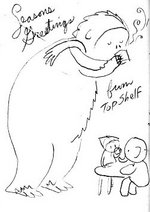 • Putting final touches, writing printers notes, and getting Jeffrey Brown's Every Girl is the End of the World for Me, and Jeremy Tinder's Cry Yourself to Sleep off to our printer Lebonfon in Quebec.
•Â Was invited to Eugene (2 hours south) for a conference featuring art spiegelman at the University of Oregon (my alma mater), and planned for this overnight trip. (Have to clear stuff like this with the wife, after all.)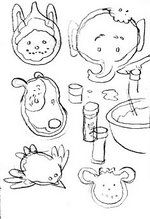 •Â Cried in my beer upon hearing that the Senate Intelligence Committee is trampling our Constitution by rejecting a probe on the "wiretapping" scandal, at the same time that the full Senate voted to re-up the Patriot Act, with it's Orwellian language allowing innocent Americans to be spied on, records searched and the like, for no probable cause.
•Â But then laughed my ass off when i read that Harry Whittington APOLOGIZED to Dick Cheney for the trouble he caused the VP. For, you know, getting shot in the chest, neck and face.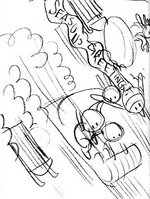 • Working to assemble the new edition of From Hell (AND a new hardcover edition!), and get that sucker back in print.
• Working with my intern Alan on production for Nate Powell's comic Please Release.
• Watched last night's stellar Smallville episode, with the debut of Cyborg. (Which more than made up for last week's super-stinker.)
* Much discussion with Jeffrey Brown and Chris (Staros) on specs for Jeffrey's forthcoming, expanded edition of I Am Going to be Small.
•Â Did several loads of laundry and two shopping trips.
•Â Received and responded to several submissions.
•Â Sending a galley of Jeffrey Brown's Every Girl is the End of the World for Me to Byron Kerman at Playback.
Whew!!!
Wrapping up the WonderCon notes:
Have i mentioned how freaking much i LOVE San Francisco? Well, it's true. That city kicks ass, plain and simple. Better yet, this was the first trip i've ever taken to SF where i didn't use my map once. At the con itself, i was set-up across from Brett at Alias comics. We're two very different publishers, but it was fun comparing notes. Real nice guy. Met new CBLDF hire Greg Thompson on the same night i hung out with a bunch of the cool peeps from Image. Had a REALLY swank dinner, courtesy of my pals Patrick and Jean Guy from Lebonfon. Stayed at my pal Wayne (I'm Totally Helpless) Shellabarger's pad, across the street from Golden Gate Park. (Man, we geeked out big-time on comics. Spent lots of hazy time pouring over that incredible, oversized edition of Windsor McKay's Little Nemo in Slumberland.) Had an amazing BBQ brunch on lower Haight (across from The Toronado.) Met and talked with Swamp Thing scribe Josh Dysart. I can't afford Marvel or DC Comics, so the only issues i have of this run (two of which are written by Will Feiffer) are the ones drawn by Richard Corben. Good stuff.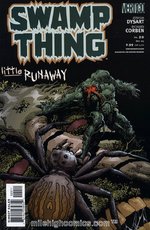 Speaking of not being able to afford Marvel and DC comics, a copy of the deluxe signed & numbered LOST GIRLS by Alan Moore and Melinda Gebbie (as well as comps for ALL our books), to the DC editor who steps up and gets me on their comp list. Schreck? Cavalieri? Dunbier? Any of you guys reading this?