Hannah Templer's COSMOKNIGHTS begin their quest today!
March 8, 2019
---
MARIETTA, GA (March 8, 2019) — Cosmoknights, the solo debut graphic novel by acclaimed cartoonist Hannah Templer (Jem and the Holograms, GLOW), today begins its life as a free webcomic at cosmoknights.space. Written, drawn, and colored by Templer, Cosmoknights is a thrilling galactic adventure set in a world where mech-suited warriors duel over the daughters of the aristocracy, and a fledgling resistance of lady knights aim to bring down the system from within.
Cosmoknights celebrates International Women's Day by publishing its entire 25-page prologue today. Future updates will post scene-by-scene on cosmoknights.space, building to print publication by Top Shelf Productions in Fall 2019. Many retailers are already taking online pre-orders, including Amazon, Barnes & Noble, IndieBound, Hudson, and Penguin Random House — or you can speak to your local shop.
---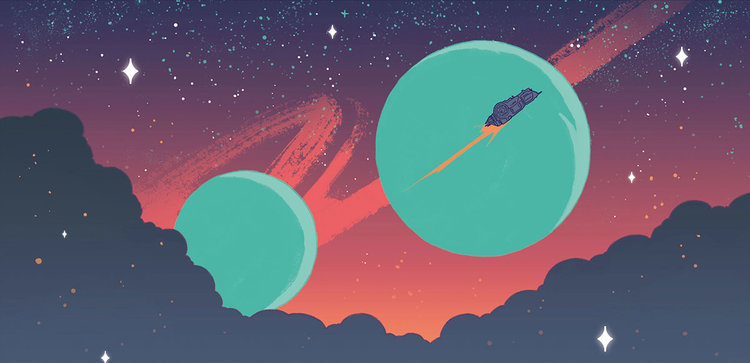 For this ragtag band of space gays, liberation means beating the patriarchy at its own game.
Pan's life used to be very small. Work in her dad's body shop, sneak out with her friend Tara to go dancing, and watch the skies for freighter ships. It didn't even matter that Tara was a princess… until one day it very much did matter, and Pan had to say goodbye forever. Years later, when a charismatic pair of off-world gladiators show up on her doorstep, she finds that life may not be as small as she thought. On the run and off the galactic grid, Pan discovers the astonishing secrets of her neo-medieval world… and the intoxicating possibility of burning it all down.
COSMOKNIGHTS by Hannah Templer

ISBN 978-1-60309-454-2

Published by Top Shelf Productions, an imprint of IDW Publishing

Distributed by Diamond Comic Distributors and Penguin Random House

Coming in Fall 2019!