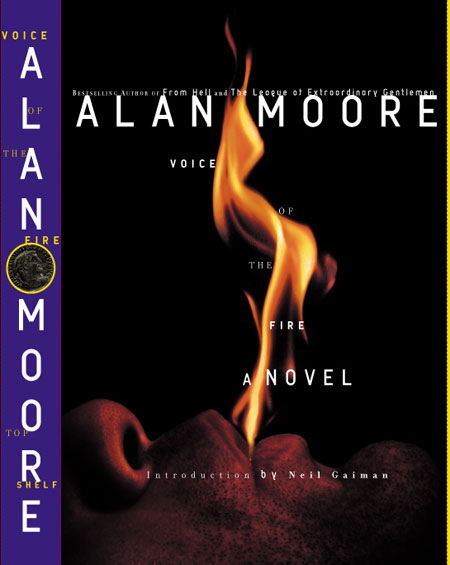 NOW IN PAPERBACK!
"Do not trust the tales, or the town, or even the man who tells the tales. Trust only the voice of the fire."— from the introduction by Neil Gaiman
"Alan Moore is the best and most innovative writer in graphic novels. I have been a huge admirer for years." — Michael Moorcock
"Alan takes genuine risks and justifies them: you feel, all the way, the rush of discovery; authorial privilege endangered by the savage voices he allows into his head." — Iain Sinclair
"A burning bush of a novel full of earthy wonder and wisdom, Voice of the Fire is a head-spinning trip down time's sacred whirlpool." — Richard Gehr, Village Voice
"Part mythic cycle, part fictional history of Moore's hometown, part collection of fireside ghost stories, Voice of the Fire is as clever and well-crafted as Moore's other genre experiments, and by taking his dialogue out of word-balloons and panel arrangements, it gives his limitless literary ambition room to stretch out into new and fascinating forms." — Tasha Robinson, The Onion AV Club
"A daring, unsettling work of literature." — Locus
"Remarkable, savage and, at times, unbearably beautiful." — Time Out
A brand-new paperback edition of the one and only prose novel by Alan Moore! (with an Introduction by Neil Gaiman, a signature of full-color plates by José Villarrubia, and a cover design by Chip Kidd).
In a story full of lust, madness and ecstasy, we meet twelve distinctive characters that lived in the same region of central England over the span of six thousand years. Their narratives are woven together in patterns of recurring events, strange traditions and uncanny visions. First, a cave-boy loses his mother, falls in love and learns a deadly lesson. He is followed by an extraordinary cast of characters: a murderess who impersonates her victim, a Roman emissary who realizes the bitter truth about the Empire, a crippled nun who is healed miraculously by a disturbing apparition, two witches, lovers, who burn at the stake, and many more. Through each tale, Moore travels through history blending truth and conjecture, in a novel that is dazzling, moving, sometimes tragic, but always mesmerizing. — A 304-Page Softcover Novel with a Full-Color Signature, 5 1/2" x 8", Mature (16+), Note New ISBN: 978-1-60309-035-3, Diamond: JAN09-4456
Reviews
---
Related Titles