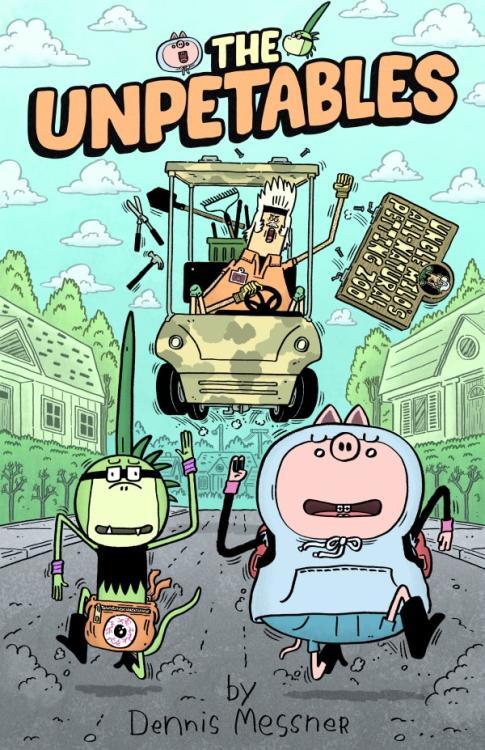 "Hog wild hilarity." —Kirkus Reviews
"Pigmund and Lizárdo are flippin' awesome! They may be unpetable, but they're also UNSTOPPABLE! Bring on the next adventure!" — Rob Harrell, author of Wink, Batpig, Life of Zarf, and Monster on the Hill
"Take a wild ride with Dennis Messner's The Unpetables. It's the funniest adventure that a runaway pig and a lizard ever had. It's got laughs, action, thrills, heart, and a werewolf hamster named Mr. Buttercups." — Kaz, SpongeBob SquarePants writer, and creator of the comic strip Underworld
These two best friends have had ENOUGH of being petted! It's a non-stop zany middle-grade adventure as they bust out of the petting zoo and hit the road to find their destiny.
Pigmund and Lizárdo are free! They recently "declared independence" from their petting zoo.... and now this pot-bellied pig and iguana are out to SEE THE WORLD.
They are: THE UNPETABLES — and they're available for temporary work as "freelance pets." But no matter what gigs the Unpetables may get, they have one very big rule: NO MORE PETTING!
Will Pigmund and Lizárdo find the independence they're looking for? Or will Maintenance Man Kenny finally catch up with them and take them back to Uncle Milo's All-Natural Petting Zoo?
Hitch a ride on the nearest chicken and pick up this laugh-a-minute graphic novel, full of rambunctious action and irresistible creativity. -- an 88-page, black & white, softcover graphic novel with 3" French flaps, 5.5" x 8.5" (portrait)
Reviews
---
Related Titles