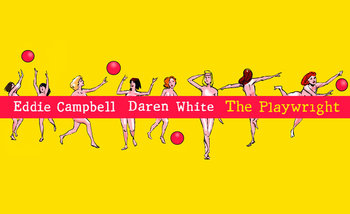 REVIEWS:
"This quiet character study... succeeds on several levels, but its most potent component is the clearly recognizable and utterly naked humanity." -- Publishers Weekly (starred review)
"Campbell's watercolouring effects take his art into vivid new horizons ... [his] images skilfully complement and sometimes counterpoint White's witty third-person, documentary-style narrative ... This saucy satirical portrait is pure delight." -- Paul Gravett, author of Graphic Novels: Stories to Change Your Life
"Wholly original, painfully astute and -- wonder of wonders -- surprisingly redemptive." -- Steve Duin, The Oregonian
"The most satisfying piece of fiction I've experienced this year of any format. I really can't recommend it highly enough." -- Avoid the Future
"There's a great emotional impact as the book progresses, underscored by Campbell's art. The Playwright is a touching and masterful work that is definitely one of the 'must own' graphic novels of 2010." --Chad Nevett, Comic Book Resources
Praise for Eddie Campbell (Alec, From Hell):
"No one else in the medium combines emotional truth, literary intelligence, and formal daring with such adroitness and elegance." -– Booklist
"Campbell is one of the premier cartoonists of his generation." -- Publishers Weekly
DESCRIPTION:
Artist Eddie Campbell and writer Daren White have teamed up to present a most peculiar love story.
The Playwright rather enjoys a quiet moment in the local park. It is a good place to mentally sort his ideas, and is often frequented by pretty young ladies. He once saw a pigeon defecate onto a businessman's shoulder. It struck him as absurd that such an event is often considered lucky. Surely the luck lies with passers-by who, statistically, are far less likely to be similarly soiled at that precise moment. Similarly, the Playwright has always derived an almost perverse sense of relief upon receiving news that an old friend has developed prostate cancer. Because statistically, he reasons, such news significantly reduces the chances of himself being similarly afflicted. And to be honest, at his age, his prostate needs all the statistical support he can muster...
The Playwright: a dark comedy about the sex life of a celibate middle-aged man.-- A 160-Page Deluxe Full-Color Hardcover Graphic Novel, 9" x 5 1/2" (landscape), Diamond: APR10-1089



CO-PUBLISHED BY TOP SHELF & KNOCKABOUT.
Reviews
---
Related Titles