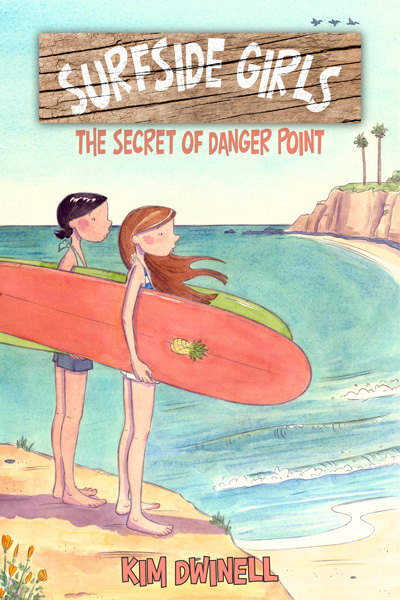 Soon to be an Apple TV+ series!
Silver Award Winner — PubWest Design Awards
"I loved this book! Surfside Girls is exactly what I wish all my summer vacations had been like. Now if you'll excuse me, I'm off to the beach!" — Janet Lee, Eisner-Award-winning artist of Return of the Dapper Men
"Kim Dwinell's Surfside Girls has a timeless quality. With its likable characters, sunny colors, and supernatural mystery, it's a perfect summer read." — Brigid Alverson, School Library Journal's Good Comics for Kids
"The cheery, doodle-like depictions... are perfectly in keeping with the breezy, warm-hearted tone. Sam and Jade's friendship, which is changing as they approach tweendom, adds a nice dose of realism." — Sarah Hunter, Booklist
"Perfect for an endless summer vacation, with supernatural mystery-solving thrown into the mix. I highly recommend The Secret of Danger Point for all ages." — Leroy Douresseaux, Comic Book Bin
"Kim Dwinell supplies a great-looking world of infinite potential... Anyone fondly remembering the tenacious and good-hearted Nancy Drew adventures from their youth can locate a spiritual successor for their own children in Surfside Girls." — Slings & Arrows
Sun... sand... and spooky adventures!
Things are getting weird in Surfside. Lately, Samantha's best friend Jade explodes into fits of giggles whenever she sees a boy, and it's throwing a wrench into the kick-back summer of surfing and hanging out that Sam had planned. But after swimming through a secret underwater cave, Sam starts to… see things. Like ghosts. And strange creatures. And maybe something even scarier! Can she and Jade get to the bottom of this mystery in time to save their town? -- a full-color softcover graphic novel with 3" French flaps, 6" x 9", 236 pages.
Watch the Surfside Girls animated trailer:

Reviews
---
Related Titles