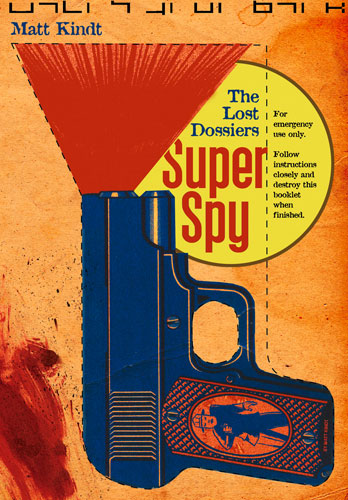 "Clever and formally audacious." -- Tom Spurgeon, The Comics Reporter
"Kindt's fluid outlines, thick swatches of color fill-in, sleek figures, and predominant subdued duotone coloring effectively conjure the ambiguous living hell that crushes the characters' zeal while it forces them to go on until they're stabbed, knifed, poisoned, or shot. [Super Spy] rivals the power of the most complex and serious spy novels and films." --Booklist (starred review) on Super Spy
"Matt Kindt's work on SUPER SPY blows my mind. The elegance of his art, juxtaposed with his rich character work and complex narrative -- is nothing short of genius. The Spy genre is so well traveled, that sometimes it feels like everything's been done before. But Matt Kindt's SUPER SPY proves that something new is always possible; if you unleash your passion, vision, and talent. Read SUPER SPY! Read 2 SISTERS! Read PISTOLWHIP! Buy Matt's art! I have. And my life is better for it!" -- Jesse Alexander (Producer and writer of Heroes, Lost and Alias)



Couldn't get enough of the critically-acclaimed and Eisner-nominated SUPER SPY? Curious what all the fuss is about? Have we got a book for you! Creator Matt Kindt has pulled out all the stops to make this an unforgettable supplement to (or first taste of) his 2007 opus.
What's inside? Deleted scenes! All-new spy stories! Sketchbook pages! 3-D comics! Full annotations! Diagrams of spy gadgets and keys to unlock hidden secret codes! Props and stories for you to cut out and assemble! It's like a secret spy activity book for grown-ups, bursting with ingenuity and pathos!
PLUS: illustrations, photos, and commentary from Matt explaining the real-world spy origins of his stories and techniques! Don't just read this book... USE it! -- A 96-Page Full-Color Softcover Graphic Novel (5 3/4" x 8 1/4"), Diamond: JAN10-1114
Reviews
---
Related Titles