Rian Hughes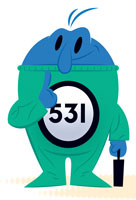 Rian Hughes studied at the LCP in London before working for an advertising agency, Smash Hits, i-D magazine and a series of record sleeve design companies. Under the name Device he now provides design, custom type and illustration for advertising campaigns, record sleeves, book jackets, graphic novels and television. His first graphic novel was "The Science Service" for Belgian publisher Magic Strip, published in five languages. This was followed by "Dare" for IPC's short-lived "Revolver", an "iconoclastic revamp of the '50s comic hero Dan Dare", written by Grant Morrison.
Part of 2000AD's infamous "Summer Offensive", his strips from the Galaxy's Greatest have been collected in "Yesterday's Tomorrows" ("Dare", "Really and Truly" plus others) and "Tales from Beyond Science" (written by Mark Millar, John Smith and AlanMcKenzie). More recently he wrote and drew a "Batman: Black and White" tale, contributed to "Vertigo: Magenta", designed the map of the DC Multiverse and was reunited with Morrison for two stories in the SF Special issue of Heavy Metal.
From his studio, Device, he has also worked extensively for the British and American comic, publishing, advertising and music industries as designer, typographer and illustrator. Work includes title sequences for "The Box", poster designs for Tokyo fashion company Jun Co.'s Yellow Boots chain, the animated on-board safety film for Virgin Airlines, Eurostar's poster campaign, a collection of Hawaiian shirts, a range of watches for Swatch, a BDA International Gold Award and Creative Use of Print Award-winning brochure for MTV Europe's Music Awards and numerous book jacket illustrations and CD covers. He has designed many logos for DC, Marvel, Valiant, Image and other comic book companies for titles such as Batman, the X-Men, James Bond, Spider-man and many others.
His advertising typography earned a Campaign Press Awards Silver in 1996 and a Merit Award from the New York Art Director's Club in 2000, and a Communication Arts Award of Excellence in 2013. In addition to designing typefaces for FontShop's FontFont range, fonts for clients such as Mac User, 2000AD and The Teenage Mutant Ninja Turtles are released via his own label, Device Fonts.
He has contributed to numerous international exhibitions, lectured widely both in the UK and internationally, and a one-man show of his work was held in 2003 the Conningsby Gallery, London. A retrospective monograph, "Art, Commercial" was published in 2002, and "Ten Year Itch", a celebration of the first ten years of Device Fonts, was published in 2005. He illustrated six children's books for ex-Spice Girl Geri Halliwell, and recent books include "Custom Lettering of the 20s and 30s" and "Lifestyle Illustration of the '50s". "Soho Dives, Soho Divas" collects his burlesque drawings, and he sets out his memetics manifesto in "Cult-ure: Ideas Can Be Dangerous."
He has a collection of Thunderbirds memorabilia, a fridge full of vodka, and a stack of easy listening albums which he plays very quietly.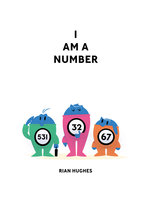 by Rian Hughes
$19.99 (US)
$8.99 (US) DIGITAL